Sun speeds low-end with UltraSparc, AMD kit
Linux desktop moves, too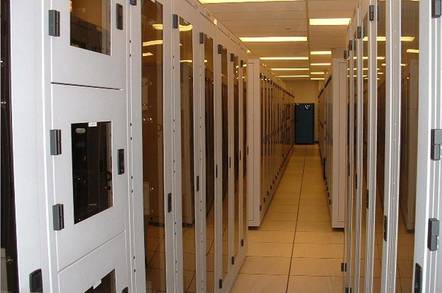 After defending Sun Microsystems' relevancy in the US over the past year, Sun Chief Scott McNealy has turned to Europe for the latest "we matter" pitch.
McNealy today kicked off Sun's first ever major European product launch event, in Berlin, showing a sampling of new product and hoping to persuade a region that accounts for one-third of Sun revenue of the company's bright future. In a sign either of Europe's importance to Sun or McNealy's impression of local custom, the CEO donned khaki pants and a sports coat for the first time in recent memory. Apparently, this is not sweater and jeans country.
"I keep reading about whether Sun is relevant or not," McNealy said. "Apparently, we are relevant."
These comments came as some 6500 people showed up to the Berlin event with many being turned away at the door. In our brief travels around the conference floor, many of these attendees appear to be Sun salespeople talking about "Java Desktop System opportunities" and "scaling up customers over time", but we will assume there are some non-Sun folks in attendance as well.
The Kit
Fresh off last month's Opteron server announcement and Chinese Linux desktop win, Sun had little room for any massive announcements at this show. New to the market, however, are the long awaited Athlon-based B100x blade server and Sun Blade 2500 workstation. In addition, Sun refreshed parts of its Netra product line targeted at telecommunications companies and announced a deal with EDS that will see the company provide global support for the Java Desktop System.
The Sun Fire B100x server ships with a 1.53GHz Athlon XP 1800+ processor and runs either Solaris x86 or Linux. The box starts at $1795 and is available immediately. Sun has long talked about this kit and has a Xeon-powered blade in the works as well - dubbed the B200x. We asked Sun what caused the delays of the B100x and where the heck the B200x is, and were told to "stay tuned," which really did not answer much of anything.
The new Athlon-based blade fits into the same chassis as Sun's current UltraSparc blade systems. In addition, Sun has started shipping a B10p SSL Proxy blade server, which can take some of the burden off of processing blades by offloading SSL encryption tasks. The proxy blade starts at $13,800 versus the B100x, which starts at $1795.
Like the B100x, the Sun Blade 2500 workstation has endured several delivery delays. The system has long appeared on Sun channel partners' price lists, and many Reg readers will rejoice at the product finally arriving. The system ships with a 1.2GHz UltraSprac IIIi processor, up to 8GB of memory and 72GB of storage. It starts at $4995.
Also new to the hardware line are the Netra 240 and Netra CT820 servers. The Netra 240 is the telco-ready version of Sun's standard V240 server. It ships with UltraSPARC III chips and full NEBS compliance in a 2U package. The box starts at $6,995.
The Netra CT820 is Sun's first system to support the PICMG 2.16 standard along with cPCI. The blade chassis starts at $32,995.
These are the biggest product announcements on the day, but you can find quite a few more products targeted at specific verticals here.
Software bits
Along with all the rack-mount kit, Sun made a few moves around the Java Desktop System.
On the most basic level, Sun actually made the JDS generally available today after hyping the Linux-based OS for close to a year. Despite only officially putting the product on market today, Sun has already inked quite a few deals for use of the software and now brought EDS on board for support.
Sun has also tweaked the pricing of its Java Enterprise System, which is the collection of enterprise software Sun sells to large companies for $100 per employee. Sun is now saying that companies with under 100 employees can receive the JES at no charge. This is a clear shot at markets typically dominated by Microsoft and void of Sun gear. Sun will also sell the software to ISVs at a cost of $1000 per processor.
So, Sun has completed a major refresh of its low-end product from the desktop and workstation to rack-mount servers. With all the new product bits and pieces out of the way for now, we promise to bring you some of the hidden gems of the Sun event over the next two days. ®
Sponsored: Minds Mastering Machines - Call for papers now open