Sun shares jump on Youngjohns
The Loon responds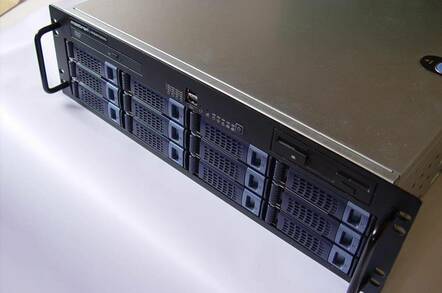 Sun Microsystems shares shot higher on Monday as one executive pumped up investor confidence while one analyst tried to drain it.
Sun's share price rose 11.11 percent to a close of $4.39 per share. This gain outstripped that of rivals such as IBM, Dell, EMC and HP - all of which enjoyed modest rises (less than 2 percent) on the day.
As always, the press went searching for answers to explain the sudden jump in Sun's stock and most fingers pointed at Robert Youngjohns, EVP of global sales operations at Sun. (Youngjohns was not a member of Robin Hood's Merry Men, as far as we know.)
"In the sectors that matter to us most, which is financial services and telecoms, we are seeing definite signs of increased spending," he told Reuters. "Financial services companies are starting to think longer term about their infrastructure needs, and that's good for Sun, while the telcos industries themselves are seeing growth."
Financial services companies and telcos are the bread and butter markets for Sun. An uptick in infrastructure spending from these sectors would surely benefit the Unix server kingpin.
But while some took Youngjohns' comments as reason for optimism, one man made sure to cast a negative air over Sun's run.
"While careful not to put too much weight on a few data points, we are incrementally more worried about executive attrition," wrote Steve Millunovich, in a research note. "We believe Barbara Gordon, vice president of global software sales, may have left Sun for a job with Microsoft. We also hear that Joe Womack, vice president of Americas partner sales, also left the firm. Sun was unable to confirm these departures. Sun's downturn can become self-reinforcing if too many execs depart."
No worries, Steve. We're a little closer to the situation and can confirm the exits. A high-ranking Sun executive dismissed the two departures as standard battle woes, saying two out of seventy isn't all that bad.
Miloonovich continued.
"Speculation could drive the stock higher leading up to the next quarterly report. Management seems to believe the company is on the cusp of a turn in fundamentals. While we continue to be open minded in our search for confirmation of a turn, we have thus far uncovered no evidence (though it's far too early to call the quarter)."
And with that Miloonivich left his note as open-ended as the new signature series Britney Spears g-string he purchased for the next visit to Round Rock. ®
Related Stories
Sun struggles in Q1
The Loon rides again with attack on Sun's comic value
Sun's shares tumble, The Loon grumbles
Sponsored: Learn how to transform your data into a strategic asset for your business by using the cloud to accelerate innovation with NetApp