Gatelinx preps free P2P videocon messenger
Skype-like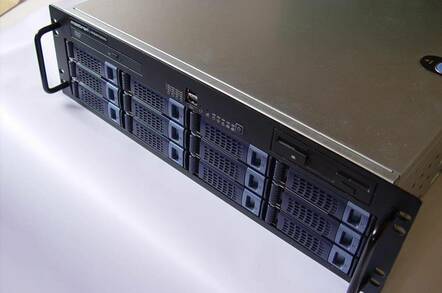 Details are slowing emerging from the ambitious projects behind PerfecTV and its videoconferencing
sister company Gatelinx, with Gatelinx looking far more ambitious than we originally realized, likely to operate like the free VoIP Skype service, but with videoconferencing in from the get go. The Gatelinx products won't be free, but they should provide free videoconferencing calls across the Internet.
We first came across this tiny subsidiary of the leading DirecTV reseller, Prime TV, three months ago, when On2 Technologies boasted that its V6 MPEG4 codec had been selected for its primary codec.
That wasn't strictly true and product manager at PerfecTV, Mike Chisholm, won't actually say
which codecs (plural) he has settled on.
"We've looked at Microsoft's Windows Media 9, at On2 and at three variants of H.264 from Vsoft, UB Video and Nvideo. We are leaning towards H.264 MPEG 4 Level 10, but we may use more than one codec." So far they have tried H.264 driven by both Texas Instruments and Equator Digital Signal Processors, and are leaning towards the Equator chips, but have them in testing at present.
It turns out that multiple codecs are likely to be used, because the company wants to deliver a number of different experiences. Not only is it hoping to deliver streamed and buffered IP video through PerfecTV over broadband lines, but also videoconferencing that will need real time encoding of a video signal as well as decoding. Later PerfecTV wants to offer High Definition TV, which is something of a compression challenge.
But the noticeable additional differences this week can be seen on the Gatelinx site. The company has always said that it would offer videoconferencing for kiosks to support sales situations by putting real people as guides to web sites, but now it appears to be set to offer it as a straightforward video version of instant messaging.
The underlying technology is similar to Skype's, using peer to peer software (again, which version hasn't been announced yet); 256-bit encryption and the same approach to get around firewalls and NAT servers that Skype uses. The first version will run PC to PC, but the final version will be incorporated into the PerfecTV set top boxes to allow free "living room" videoconferencing for any household with a PerfecTV set top.
Still no news on who will supply content for PerfecTV, and its launch has been put back by negotiation delays, although the company confirms it is in negotiations with the larger studios and also with TV companies. The launch will now be 2004, but no indications when. However the Gatelinx part of the equation should see the light of day sooner than that.
© Copyright 2003 Faultline
Faultline is published by Rethink Research, a London-based publishing and consulting firm. This weekly newsletter is an assessment of the impact of events that have happened each week in the world of digital media. Faultline is where media meets technology. Subscription details here.
Sponsored: Learn how to transform your data into a strategic asset for your business by using the cloud to accelerate innovation with NetApp