Small companies' cash is not good enough for SCO
You'll pay when we're good and ready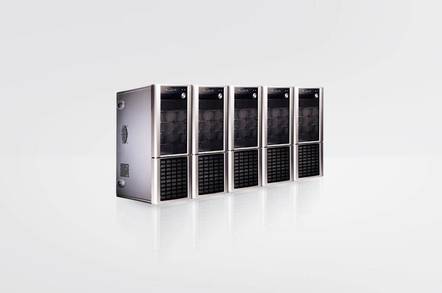 SCO is dead serious about making companies pay up for their Linux use. That is unless they are a small or medium-sized business.
It turns out that the Utah clean crusaders will only accept payments from companies that make up the Fortune 1000 list. Call it a curse; call it a blessing - small businesses simply cannot buy the peace of mind that comes with a Linux license, according to a report by Robert "Server Bob" McMillan of IDG News Service.
"We're trying to execute on this licensing plan (by) really starting to deal with the very top players and working our way down," Blake Stowell, a spokesman for SCO told IDG. "After the company has rolled this out to the Fortune 1000 and we're satisfied with how the program is going ... we'll then roll it down to small to medium businesses."
Under this plan of attack, it would seem small and medium-sized businesses have little to fear. SCO is having a hard time convincing Fortune 1000 companies to take it seriously. There is no telling how long it will take to sign up a "satisfactory" number of companies. That must mean more than one, right?
There is, however, a class of small companies out there who are concerned by SCO's tactics. They want to take advantage of SCO's current $699 per processor Linux license fee before the price doubles in November. Users who try to pay SCO and are rebuffed by its elitist IP plan would also like a guarantee that they won't face a a lawsuit down the road.
SCO told IDG that customers who contact the company about purchasing a license now will be entitled to the $699 going rate - one day. No matter how hard they try; they cannot pay SCO now. And you thought it couldn't get any more bizarre.
But SCO's word isn't good enough for some.
"Where's my letter saying, 'Thank you for talking to us, when we're ready to sell this to you you'll get it at the discounted rate and, by the way, we're not going to sue you?'" asked Drew Streib, vice president of operations with Permisoft Inc., in a interview with IDG.
Don't worry, Drew. This SCO mob runs a tight ship. We're sure they'll think of something to make you rest easy. ®
Related Stories
SCO licenses Microsoft protocols
SCO blinks - bill us when you can
Sponsored: Minds Mastering Machines - Call for papers now open