Dell and UT team for Texas-sized cluster
Lonestar versus Shiner Bock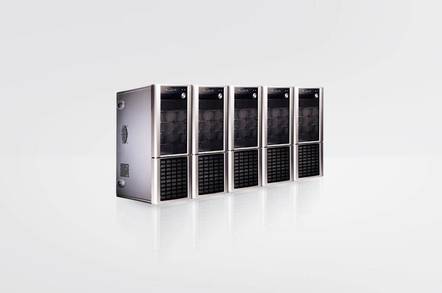 In a showing of Texas pride and unity, Dell announced a deal with the University of Texas to create a 300-server cluster to be used by the school's scientists and engineers.
The system dubbed "Lonestar" will be housed at UT's Texas Advanced Computing Center and be capable of more than 3 TeraFLOPS (trillion floating point operations per second), which is plenty of horsepower. Over the next year, UT plans to add 200 or more servers to the cluster.
Both Dell and UT are located in central Texas, which made the Lonestar name an obvious choice. Not only is Lonestar Texas' preferred monicker, it's also the name of good old boys' favorite beer, as evidenced by this Web site. (We don't get the virtual carding either - Ed.) More eclectic types, as if such people exist in Texas, prefer another stately brew known as Shiner Bock.
Neither beer plays a major role in the construction of the Lonestar cluster, other than the fact that all Texas engineers drink beer.
The system will be made up of both Dell PowerEdge 1750 and 2650 servers with 3.06 GHz Xeon processors. Raised floors and plenty of AC are required.
The cluster will run Red Hat Linux and use Myricom's Myrinet 2000 switch along with Dell's own PowerConnect switches as interconnects.
Being a company with a strong aversion to R&D, Dell has turned to Cray for help designing and building the cluster.
The Texas-sized win adds to a number of high performance computing contracts that Dell has secured over the last couple of years. While the company goes on and on and on about enterprise customers running Oracle on Dell clusters, the scientific computing market proves to be its biggest bread winner. ®
Sponsored: Learn how to transform your data into a strategic asset for your business by using the cloud to accelerate innovation with NetApp