Palm UK web site lets Tungsten details slip
Not yet launched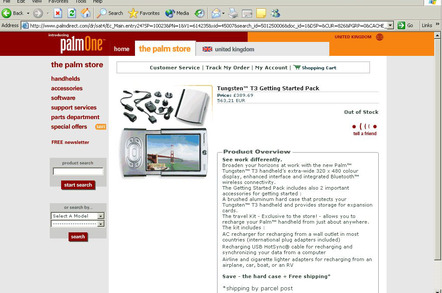 Palm has inadvertently leaked a few more details of the new Tungsten models it will launch on Wednesday, 1 October - the T3 and E.
The company's UK web site lists both models 'Getting Started' bundles, each featuring the PDA and an aluminium hard case. In addition, the E ships with a pack of replacement styli, while the T3 ships with a selection of international power and phone adaptors.
The Tungsten T3 is clearly shown in its landscape screen mode, and the accompanying blurb confirms the device sports a "extra wide" 320x480 LCD panel. There's no Graffiti text-entry area to be seen, so it seems the early rumours of a virtual Graffiti area are correct. The page confirms Bluetooth support. The T3 starter pack costs £389.69 in the UK and €563.21 in Europe.
Click image for full-size Tungsten T3 view
Alas the Tungsten E page gives no specifications away, but Palm describes the device this way: "For maximum business productivity with a minimal learning curve, the Palm Tungsten E combines timeless Palm elegance with an advanced high resolution colour display and next-generation usability."
However, you can clearly see the new navigator design and case styling:
Click image for full-size Tungsten E view
The E starter pack costs £166.67 in the UK and €241.33 in Europe.
The appearance of the devices on Palm's UK web site comes just days ahead of their official launch on 1 October. Details of the products appeared last week on a reseller web site. ®
Sponsored: Learn how to transform your data into a strategic asset for your business by using the cloud to accelerate innovation with NetApp