Nokia 3650 carries US users out of the dark age
Reg reporter upgraded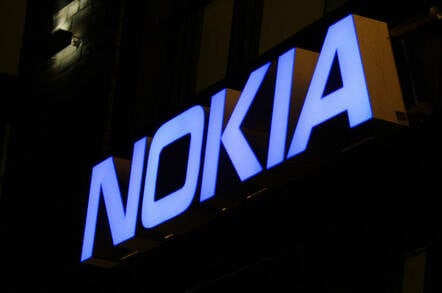 For those mired in the world of WAP or something even less compelling, a move to the Nokia 3650 is a welcome step toward modernity. It may not be where phones should end up, but it's a leap in the right direction.
Putting a WAP device down can be painful. Our clamshell Samsung - made in, ahem, 1999 - has its merits. The phone is small, light and easy to use. Apps such as Yahoo mail, Yahoo calendar and even AIM are usually but two presses of a button away. Even after four years the little guy works like a champ on Sprint's PCS network. But owners of this and other plain, vanilla devices are locked in the past to be sure.
For U.S. customers, in particular, the Nokia 3650 can open a window into the cellphone's future. All of those stories about fast-messaging Asian children and mobile-obsessed Europeans start to make more sense when a device approaches its lofty billing.
The first step in upgrading to a GSM device such as the 3650 is learning how to use it. AT&T has a handy configuration Web site set-up for its subscribers. Just type in your phone number and the model of the phone on the AT&T website, and all of the key settings are taken care of. AT&T sends a text message down to your phone with easy instructions, and with a couple of clicks your phone is set to send and receive data. Without this tool, programming the info into the phone is a bit of a chore, but most users should have little problem.
From there it's onto the UI. At first, the Nokia 3650 seems far too demanding as compared to our trusty old Samsung. It took a few hours of fiddling before all made perfect sense. Nokia has placed the main menuing button in a very central location, which helps. The basic tools such as contacts, messaging, video and calendar pop up right from this first screen. Going deeper into each of those menus can prove more challenging, as a flood of options start popping up. The graphical interface is replaced largely by text, and some users may be thrown off by language that is less than clear. But again, it's not all that bad after a while.
The phone does let you down in the "settings" department. We had to pull out the manual to see that "Standby" mode was needed to change the background image. Other phones such as the Sony/Ericcson T68i make this process much easier. We like to change our background almost daily, so going to standby is a pain.
Most folks in the U.S. are used to a passive type of phone communication. All of the information, be it news, mail or calls is coming in. A fair number of people will send a text message out, but this fad has hardly caught on en masse, especially for those over the age of 24. With the Nokia, all the goodies are outbound.
The camera, video capture and bluetooth functions make the 3650 a true communication platform. The camera tool is conveniently located on the start-up screen, making grabbing quick shots easy. The photos can then be sent with a couple painless steps, and instant gratification has been achieved.
There are plenty of phones out there with cameras, but the 3650's design makes the task especially easy. It was built to be used with one hand and works well this way. Users can point the phone at their target, hit the camera function with their thumb and then take the shot one button press later. This lets the user keep a steady eye on the shot and not worry about trekking through menus with two hands. People being photographed tend to appreciate this ease-of-use trait.
The video tool follows on in similar form but gives that added bit of expression. Few messages are as compelling as video clips received from a friend making his/her way through a well-stocked bar.
Believe it or not, watching small video clips such as a recap of a baseball game is rather pleasant. Nokia and Real have a fine setup going between them and finding content is a breeze. The same goes for playing MP3s.
For Mac users, the Bluetooth tools are a dream. With a Bluetooth dongle, users can connect their Nokia 3650 to their Mac and with iSync keep contacts and photos up-to-date. It's also painless to send a photo from the phone to the computer and then off to the outside world via e-mail. If you don't have an all-you-can-eat data plan, this option can save several dollars a month.
The big drawback with all of this is the phone's size. It's a bit of a chore to fit the sucker in your pocket. This makes carrying it around to social events less than appealing. For the first time, we wanted the option of having a smaller phone, when you don't want to deal with all the hassle, and this is not an option for most. On the plus side, the phone is remarkably light.
In our opinion, the Nokia 3650 makes a great gadget but isn't much of a work device. The lack of a keyboard is something most people can't get over. One user suggests that the predictive text tool can be learned over time - just don't look at the screen while you type. Still, dashing around the circular keypad is tough and does not make for lengthy e-mails. This phone is built for taking cute pictures and having light communications with friends. It's not a text-messaging workhorse.
The device will attract a lot of attention in public for this very reason. Anyone can pick it up and start taking photos. My how people love to see themselves on the screen. Our phone is full of strangers, and deleting them all gets a tad tiresome. Just kidding. Sort of.
While the Opera browser works on the phone, this is again not the device to be used for surfing. The old WAP device did Yahoo mail and calendaring better. The Danger device or anything with a stylus does a better job of pushing through Web pages.
All in all, the Nokia 3650 is a nice leap past something like the P800. Most of the basic functions are a generation ahead and the multimedia messaging is top-notch. Shrink this device and slap a keyboard on it, and it would be exactly what's needed from a cell phone.
Still, it provides a great way for average consumers to have a lot of fun. If you don't do a lot of mailing or surfing on your device but want to send those special moments to friends, this is the device for you.
For that reason, it makes going the GSM route a real pleasure for folks in the U.S. Yes, you have to learn what a SIM card is, but it's not as bad as it seems. Being able to send pictures, listen to music and have fun with a device is a liberating experience. ®
Sponsored: Learn how to transform your data into a strategic asset for your business by using the cloud to accelerate innovation with NetApp