Microsoft and friends roll out new storage OS
HP, Veritas first on board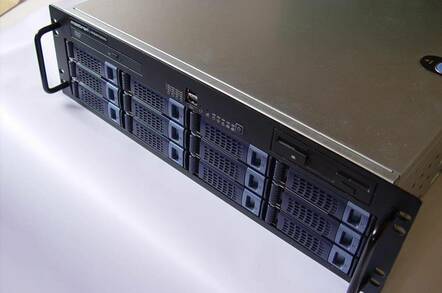 HP and Vertias have rushed to Microsoft's side to show their support the version 3.0 of the Windows Storage Server.
Microsoft is delivering the NAS (Network Attached Storage) OS right on time. The company said earlier that it expected vendors to start shipping kit with the software in September, and sure enough they are. HP and Veritas picked the Storage Decisions conference being held here in Chicago to tout their new goods.
HP is talking up the HP StorageWorks NAS 2000s. This system starts at $8,295, including the NAS head, two OS drives and four 146GB data drives. Users can add up to 24TB of external storage onto the kit.
The system will actually start shipping in a couple of weeks, as part of a bigger storage launch. HP is expected to roll out what it calls SAN/NAS fusion systems.
HP has been one of Microsoft's most vocal partners in the storage market. Microsoft was a relatively late entrant into the NAS market with its SAK (Server Appliance Kit) OS - now rebranded as the Windows Storage Server. In just a couple of years, Microsoft has managed to take 41 percent of the NAS segment.
However, the same old Microsoft story holds true. The gains in NAS are almost all for low end kit. Unix-based systems from the likes of Network Appliance remain a preferred choice for high-end tasks.
Microsoft has long faced a similar battle in the server world. It comes out with a new OS, says it will own the data center but fails to do so. HP is trying to help the folks in Redmond correct this in storage.
Along these lines, HP is saying that is larger disk arrays now support the Windows Storage Server 2003 Volume Shadow Copy Services tool. This makes it easier for customers to take snapshot copies of data straight from the NAS system.
For its part, Veritas has said that is Storage Replicator product will now work with Microsoft's new OS. The Replicator software makes it possible to back-up data from remote Windows systems to a central site. ®
Sponsored: Minds Mastering Machines - Call for papers now open