Sun turns to Tech Data to answer mid-market prayers
Xeon servers need homes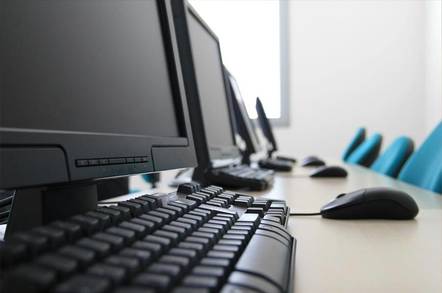 Sun Microsystems has made a much needed charge on the mid-market via a an expanded partnership with big-time distributor Tech Data.
Tech Data has been hawking Sun's pretty, purple Cobalt appliances for some time but will now add a host of low-end gear into the mix. The news systems up for sale include Sun's soon to be retired LX50 box along with the Xeon processor-based Sun Fire V60x and V65x servers. Starting next month, Sun will also ship the Broadcom-hampered V210 and V240 UltraSPARC IIIi systems. Word on the street is that the V210 and V240 have started shipping again after a brief delay due to faulty Broadcom chips. Oh yes, the nifty Cobalt appliances are still for sale too.
Tech Data will round out the Sun package with various Sun ONE software products and storage systems. Complete list here.
Tech Data brought in a whopping $15.7 billion in revenue last year, giving it plenty of size to help Sun expand into the mid-market. And Sun needs some help.
A slow fourth quarter has put added pressure on Sun to expand into new markets and give revenue a boost. Executives say the high-end kit continues to sell well; problem is that there are fewer companies around these days to buy it.
To up sales, Sun swallowed a bitter pill and decided to sell Intel- and AMD-based servers alongside its homegrown UltraSPARC kit. Now it's time to make that painful move pay off. (Even CEO Scott McNealy will tell you the Pentium III-based LX50 (get it while you can) was a bit of a dud, but the V60x and V65x are meant to fix the problem.)
Sun has done well in the one to four processor 64bit market and hopes to extend this success to the 32bit realm. The deal with Tech Data will provide a nice testing ground to see if Sun can pull it off.
Along with Linux, Sun offers its Solaris x86 Unix operating system on the low end kit. This OS has proved quite popular and may open up a few sales.
Then again, maybe not.
The big question is whether or not Sun will pop into customers' minds when they starting thinking about a Xeon server purchase. IBM, HP and Dell have ingrained their presence here deep into the users' thoughts and hearts.
Perhaps medium-sized companies that were once out of the Sun league will see things in a different light.
Again, perhaps not.
The next couple of quarters should paint a picture as to how well Sun's Xeon bet is playing out. Stay tuned. ®
Sponsored: Minds Mastering Machines - Call for papers now open