EMC bulks up Symmetrix
Size matters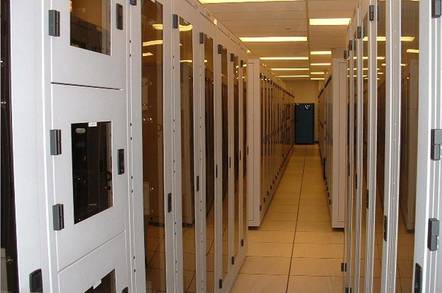 EMC has added the largest Symmetrix system to date to the high end of its storage line. At the same time it is rolling out improved technology for sending data over long distances and native iSCSI support for the new kit.
EMC likes to tout software sales as much as possible, but it's the Symmetrix boxes that pay a large chunk of the company's bills. Customers can now get their hands on the Symmetrix DMX3000, which can store up to 84TB of data and hold 576 drives. For some apps, the new system runs twice as fast as the DMX2000, EMC said.
While the DMX3000 is a hulking box, it does not quite match up to the 146TB Lighting 9900V system from Hitachi Data Systems.
The DMX3000 system also includes a new version of the SRDF (Symmetrix Remote Data Facility) disk-mirroring software for handling asynchronous replication of data. Known as SRDF/A, the software is meant to improve the transfer of data over long distances. EMC claims that it can cut bandwidth loads by as much as 30 percent by lowering the amount of redundant data sent to a back-up site.
The last key bit of EMC's product barrage comes in the form on native iSCSI (Internet Small Computer Systems Interface) support across the entire DMX series. The iSCSI protocol was designed to send blocks of SCSI data across Ethernet and make it possible to link Fibre Channel SANs (storage area networks) with IP-based systems. So far, analysts say medium-sized companies have driven interest in iSCSI, so it's a bit surprising for EMC to roll out the technology on its high end kit first.
The Symmetrix DMX8000 will not be available until September and will start at $1.7 million. EMC has cut the price on the lower end DMX8000 by 30 percent, and it now starts at $284,000. ®
Sponsored: Learn how to transform your data into a strategic asset for your business by using the cloud to accelerate innovation with NetApp