MS mounts two-pronged attack on Linux server market
Record numbers, allegedly, plus a dollop of legal concerns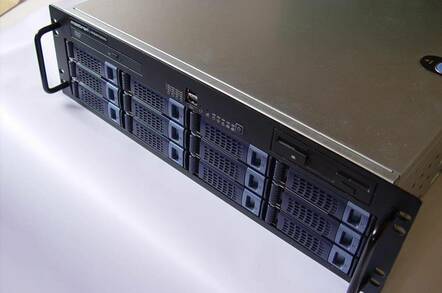 The nature of the two-pronged attack Microsoft will be mounting on Linux in the server market became clearer at yesterday's analyst meeting, as Ballmer and Gates on the one hand claimed a storming first few months for Windows 2003, and on the other ramped up "intellectual property" and "open ended liability" for customers issues. The first of these, essentially about convincing everybody you've won already then converting the claims to reality, is a (or whould that be 'the'?) traditional Microsoft sales and marketing play, while the second, only to be expected, plays the SCO Linux litigation for all it's worth.
The sign-off in this CNET report provides a little helpful perspective on Microsoft's qualifications to comment on lawsuits. "It was obviously a good year," quips Ballmer: "We were able to resolve more actions than started up." The difference here, of course, is that although Microsoft has a more or less permanent lawsuit processing plant, it is not currently experiencing much in the way of product- and/or customer-threatening litigation (although Intertrust could still have that potential). It has experienced these in the past, but has bought its way out of them, so that's all right then.
We could mention that IBM could, probably will if it feels it needs to, shoot Microsoft's SCO fox in a similar fashion, but we doubt you'll hear anything like that from the Microsoft salespeople who'll be toeing the Gates line by whispering "open ended liability without indemnification" around the server market.
But what about those Windows 2003 shipment claims? In its first three months on sale, Microsoft claims 2003 has vastly exceeded sales of Windows 2000 server in its first three months, and that it will hit the million mark in far less time than 2000 took. And a recent Netcraft report even showed 2003 taking installations from Linux.
The significance of this is less than some people, Steve Ballmer prominent among them, would have you believe; MS CFO John Connors certainly doesn't believe it, predicting a relatively sober 9.5 per cent unit growth for Microsoft server products over the next 12 months, while expecting 24 per cent for Linux. With enemies like these, one might muse, who needs friends?
It's always dangerous to make (as Microsoft always does) too much of early sales figures, and there are particular reasons why this should be the case with 2003. You would naturally expect Microsoft server software to be selling more now than it was when 2000 shipped, but more importantly the circumstances are quite different. When 2000 came out customers faced the non-trivial prospect of upgrading from NT 4.0, and were sufficiently reluctant for NT 4.0 upgrades to still be a major target market for 2003. But Microsoft does not face this kind of resistance when it comes to existing Windows 2000 Server customers.
In the main, these are already committed to a Microsoft strategy, and therefore accept that 2003 is where they're going, the only question being when. This certainly ought to result in a good number of them deciding to switch early, and that ought to show in the early numbers. Post-launch momentum will also have played a part in the Netcraft figures, which will quite probably turn out to have been a blip when the statistics have settled down.*
Even steady, non-spectacular growth for Microsoft server numbers is however good business, because in general the numbers represent high-ticket sales that at least hold the promise of profitable add-on product and service sales. This is not necessarily the case for Linux's impressive growth numbers over the past few years. Preinstalled Linux server shipments were up nearly 30 per cent for the first quarter of this year, according to IDC, but a good slug of these sales will have been of basic, commodity servers with little profit for the software vendor.
Continuing high Linux server shipments are clearly an issue for Microsoft in the long run, because they reduce Microsoft's size of the pie while at the same time creating a far bigger market for Linux server software. In the shorter term, however, it's possibly more appropriate to try to compare like with like better by, say, comparing Microsoft's numbers with Linux enterprise server sales by the likes of Red Hat, SuSE and IBM, which would give us a rather lower number.
But could that be what Microsoft's doing already? Enterprise-targetted Linux sales are relatively recent, and are clearly the most vulnerable to worries about IP and liability. If you're buying a couple of commodity servers from HP or Dell, then you probably don't give two hoots about lawsuits, but the bigger the customer and the more complex and mission-critical the installation, the more likely it is to be concerned. And indeed, the more likely it is to be on the target list of Microsoft's sales teams, ever-ready to add to these concerns.
So perhaps we could view Microsoft's combination of perception-management and IP/liability FUD as being aimed precisely at this area, designed to meet and beat serious revenue challenges on what it sees as its home turf. It does not provide an answer to the threat from commodity server sales, but it's not clear there is an answer to that, aside from commoditising server prices. ®
* While we're about it, we should doubt reliance on early figures in the other direction, too. Netcraft is currently suggesting that customers may be untroubled by the SCO action, citing Linux's net gain of 100 new enterprise sites in the two months since SCO issued its threatening letters. But as the lead time for deploying a new enterprise site is somewhat longer than two months, it strikes us as too early to call, and that any dampening effect won't be evident for some months yet.