IBM, Cisco team on iSCSI and FCIP
Users can go both ways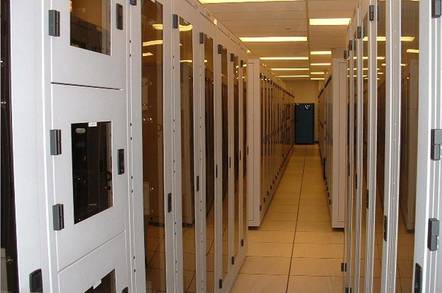 IBM and Cisco are putting their collective weight behind iSCSI and FCIP, hoping to give the fledgling protocols a kick in the pants.
IBM has agreed to resell the Cisco MDS 9000 IP Storage Services Module. Don't let the long name fool you. The Cisco product is just a bit of multiprotocol kit that supports iSCSI (Internet Small Computer Systems Interface) and FCIP (Fibre Channel over IP). Customers will use the module to link their Fibre Channel-based SANs (storage area networks) to the rest of their Ethernet network or in the case of an SMB to set up a SAN.
IBM has long been a big iSCSI backer. It released the first system to support iSCSI in 2002, but sales of the product have been slow. However, IBM is not one to let slow sales get it down.
Both iSCSI and FCIP help customers send large chunks or blocks of data over existing IP networks. Ideally, the protocols should help link Fibre Channel-based SANs over long distances and give more users access to the data in the SAN.
But as one analyst points out, iSCSI, in particular, has been picked up by small and medium-sized businesses rather than the enterprise customers storage vendors were looking to attract.
"The interesting thing about iSCSI is how customers -- especially small to medium businesses -- have actually been asking for the capability," said David Freund, an analyst at Illuminata.
Despite these customers' affinity for iSCSI, a number of large vendors have been slow to promote the protocol, fearing it may cut into higher margin sales.
"Vendors have not been pushing iSCSI all that hard," Freund said. "Reduce networked storage to commodity levels, and you also reduce profit margins."
IBM, however, has been trying squeeze every penny possible out of SMB customers during the IT spending slump. Selling iSCSI and FCIP at full force fits right into this strategy.
"Fibre Channel hardware is expensive, and an IT staff that moves into Fibre Channel for the first time also has to learn about this different type of network," Freund said. "iSCSI on the other hand, uses TCP/IP, on which every IT shop already has in-house expertise."
Going with iSCSI means an SMB customer can shuffle blocks of data such as database or multi-media files across IP with ease. The protocol lets an SMB feel like a big boy without all the expense.
Along with the module announcement, IBM said it has cut prices on the entire family of Cisco MDS Fibre Channel switches. We took the liberty of reporting this move last month.
At the time, an analyst warned that Cisco may have trouble cracking into the Fibre Channel switch market. Competitors such as Brocade and McData have already won a large chunk of customers mind-share.
The iSCSI/FCIP market could be more kind to Cisco, as no vendor has really proven itself as a clear winner yet. ®
Related Stories
Cisco switch price cuts a bad sign - Analyst
HP claims IBM price scalp for Cisco storage switches
Sponsored: Learn how to transform your data into a strategic asset for your business by using the cloud to accelerate innovation with NetApp