Agere designs wireless VoIP chipset
Wi-Fi phone thang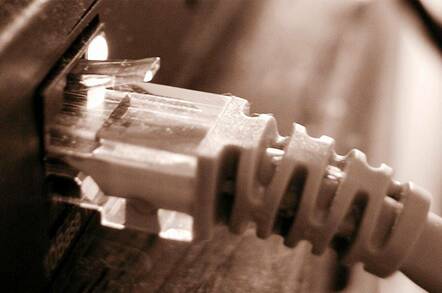 Chipmaker Agere Systems today announced plans to integrate wireless LAN and VoIP technology on a single integrated chipset. Agere's wireless VoIP phone technology offers the promise of making low-cost, mobile phone calls over the Internet more widely available once the chips become available from September.
Wi-Fi/802.11 technology allows users to access the Internet and wirelessly transmit data through network access points. VoIP technology enables converged voice and data connections on phone networks, increasing network efficiency and reducing per-call costs.
By combining these two technologies into a single, integrated chip set, Agere's technology will support communications devices that give users the freedom to roam across corporate networks, residential broadband networks and public Wi-Fi hotspots.
Agere is to incorporate NTT's Universal Plug and Play (UPnP) software into its wireless IP phone technology.
Agere plans to offer a development platform and reference design for handset makers that takes advantage of NTT's UPnP software. This should help manufacturers provide low-cost handsets that are capable of communicating over NTT's residential and enterprise VoIP broadband services.
Agere's new chipset is designed to meet the compact form-factor and low-power consumption requirements of today's handheld mobile devices, offering performance benefits such as improved talk and standby times over wireless IP phones currently available on the market.
Industry analyst firm In-Stat MDR expects worldwide shipments of voice over wireless LAN handsets to grow from 90,000 units in 2002 to more than 1 million units by 2007.
Agere's wireless VoIP solution consists of the following components:
The T8307 system-on-a-chip, which provides VoIP call control and voice processing by integrating Agere's DSP (digital signal processing) 16000 capabilities with an ARM946E-S(r) microcontroller and advanced I/O capabilities.

The WL60010 802.11b media access controller (MAC) chip, which provides programmable host interface support, one megabyte of on-chip memory and a glueless interface to Agere's 802.11b radio chipsets and modules. The chip is certified to use the Wi-Fi Protected Access (WPA) security approach.

The WL1141 PHY module, which is the industry's first integrated 802.11b radio and baseband device, according to Agere.

The CSP2200 chip, which integrates enhanced-quality audio codecs, power management tools, battery charger and ringer control drivers.
As part of its wireless IP phone chip set product, Agere also will supply software drivers for the uClinux operating systems, the session initiation protocol (SIP) stack, voice compression codecs, and sample demonstration applications.
Sample quantities of Agere's wireless IP telephony chip set and development platform will be available in September, with volume production expected in the first quarter 2004. Unit pricing for complete chipsets will begin at $30 in sample quantities. ®
Related Stories
Agere, Infineon pool WLAN development
Agere demos 162Mbps wireless LAN chip
Moto to make hybrid WLAN phones
Leave your Cisco WiFi mobile phone at the door
IP Telephony far better than 'two cans connected by string'