Sun revamps midrange storage
Tries to conquer storage market, again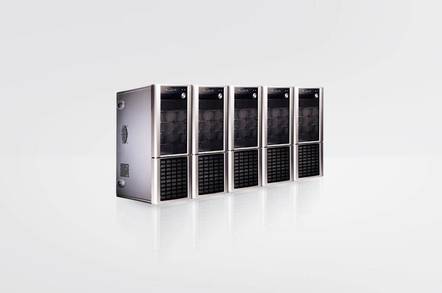 Like an innocent child running into a wall, Sun Microsystems has released new midrange storage products to make yet another attempt at gaining share in the storage market.
It's always fun to hear Sun executives talk about storage. The company has tried again and again to make headway against the likes of EMC, IBM and HP. But try as it might, Sun has struggled to gain any meaningful market share.
While some might get discouraged by past mistakes, Sun pushes on and has released new midrange arrays and a storage provisioning system that it hopes will improve its position against rivals.
The StorEdge 6120 and 6320 are the newest members in Sun's midrange storage system line.
Sun's older StorEdge T3 system could only fit 9 drives in 3U of rack space, so the new 14 drive systems that take up the same amount of space are a welcome change.
As proof of its competitive mettle, Sun claims its new kit can beat out EMC CX400 and HP's EVA systems in both performance and price.
The 6120 starts at $24,000 with 252G bytes of capacity, while the 6320 starts at $60,00 for 1T byte.
Sun has also started a pilot program to sell the N1 Data Platform. Some of you might know this product in its former incarnation as an intelligent switch and data provisioning system made by Pirus Networks.
Sun completed its acquisition of Pirus last year but is still taking its time bringing hardware to market. The N1 Data Platform was designed to look out over all of the storage hardware in a network -- servers, HBAs, switches -- and create something resembling one large disk out of all this kit.
This product is Sun's answer in the heterogenous data center movement and one of the better indications that the company is serious about managing other vendors' gear. It starts at $112,600, although, as we mentioned, only select customers can get their hands on the system at this time.
Sun has released new software for the storage systems as well, shipping Version 1.2 of the StorEdge Enterprise Storage Manager and Version 7.0 of its StorEdge Back-up product.
Neither its storage hardware or software currently ties into Sun's broader N1 management software at this time. The company assured El Reg that concerted efforts are underway to make progress here and help customers manage both their servers and storage systems from one console. Expect to see the first moves in this direction by year end.
Last and possibly least, Sun has released what it calls an Infinite Mailbox that handles automatic e-mail archiving for Lotus Notes/Domino.
This product helps sort out things such as duplicated attachments and creating archiving policies that make sure mail files are around and have not been tampered with when the Feds come knocking.
Support for Microsoft Exchange, Sendmail and the Sun One Messaging Server is coming. ®