Sun overhauls low-end servers
Jalapeno comes to life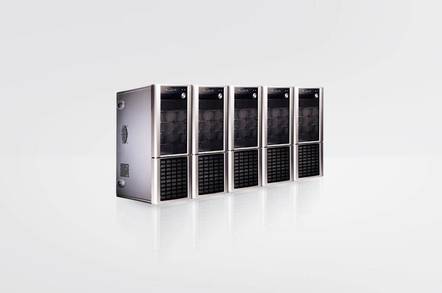 Sun's "Enchilada" server has been written about many times at El Reg, but now the two processor system has arrived.
Sort of.
Starting May 20, the V210 and V240 servers - as they are now to be known - will go on sale.
These servers are of particular note because they mark the appearance of the much-hyped, much-delayed UltraSPARC IIIi processor, code-named Jalapeno. The Enchilida servers also flag the beginning of a big revamp of both Sun's 64-bit SPARC and 32-bit Intel/AMD low end systems. The new servers also anchor a barrage of announcements from Sun ahead of a Tuesday conference here in San Francisco.
The V210 is a 1U server starting at $2,995, while the larger V240 takes up 2U of rack space and starts at $3,495. Both systems have four gigabit Ethernet ports and have an optional SSL acceleration card available.
Along with the new kit, Sun will start shipping its Sun Fire 280R server, Netra 20 server and Sun Blade workstation with 1.2GHz UltraSPARC IIIs.
The overhaul of Sun's low end line should continue next quarter with the release of the 4 processor "Chalupa" server, which will also have the UltraSPARC IIIi chips. Around that time, Sun should be gearing up two processor Intel servers with Xeon chips.
Sun executives admit they slipped up when the company entered the Intel server world with less than state of the art Pentium III-based systems. Sun, however, pledges that upcoming Intel kit along with the new UltraSPARC IIIi servers will give it a low end line that can attack IBM, HP and Dell on all fronts.
For its midrange servers, Sun has added diagnostic tools that can find problems with a CPU or memory and isolate the faulty component.
In Scott McNealy's dreams, all of these system health checks and alerts could be managed from Sun's N1 management console. However, this has not yet translated to reality and the N1 goodies will remain on Sun's blade servers for now.
On the high end, Sun has started selling pre-packaged clusters of of the Sun Fire 6800, 12K and 15K.
The only thing missing from a hardware revamp of this scale is the mandatory professional services announcement. So, here you go.
Sun has started a new managed services program aimed at improving the efficiency of a network. Basically, Sun will offer up its expertise in keeping systems up and data routing smoothly for a fee.
Sun has more announcements planned for its Tuesday event. The company is currently in phase II of a quarterly product launch scheme that it started earlier this year. This release schedule is meant to show customers every three months what $2 billion in research and development can buy. ®
Related Stories
Sun goes the whole Enchilada
Sun peppers low-end with McKinley-killer Jalapeno
Sun revamps workgroup servers
Missing Sun chip found in abandoned taqueria
Sun's Jalapeno almost cooked
Sun discloses UltraSPARC VI and VII, shows IV silicon
Power5 boasts quadruple performance gain
Sponsored: Learn how to transform your data into a strategic asset for your business by using the cloud to accelerate innovation with NetApp