Western Digital to launch S-ATA drives
Drivezilla maker seeks to stomp on SCSI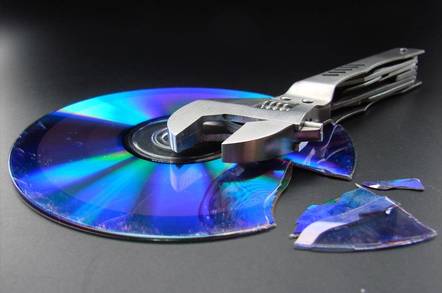 Western Digital is due to announce its first Serial-ATA hard drives today (10 Feb), positioning them against SCSI in the enterprise server and RAID market. The drives are expected to feature 8MB caches and spin at 10,000RPM, thanks to ball-less fluid dynamic bearings.
"Serial-ATA is too young for the desktop market - it can't reach maximum performance because of other limitations in the PC," says Ken Larsen, WD's sales veep in charge of emerging markets. "The vast majority of 2003 production will be replacing SCSI sockets."
Larsen expects the new interface, which uses a simplified serial plug and cable in place of today's IDE ribbon cables, to become popular on the desktop in 2004. He adds that by then, second generation S-ATA will have doubled data throughput to 300MB/s, giving it a decent edge over the 100MB/s parallel ATA100 spec.
Advantages of S-ATA over parallel include support for longer cables, simpler installation and cable routing, lower signal voltage, and the ability to hot-plug drives. However, Larsen estimates that it will eventually cost just $20 more to manufacture than parallel IDE.
He adds that WD is in a good position to enter this market, having just reported its ninth successive profitable quarter. The company has settled on a business model where it buys components in, but does all of its own design, manufacture, sales and marketing.
"We will keep assembly in-house - we have our HQ in California and a factory in Kuala Lumpur, we bought the Fujitsu factory outside Bangkok and we sold our media factory to Komag and our fab to Sony," Larsen says. In effect, he adds, by pulling out of SCSI and selling its non-core operations, WD restructured two years before the rest of the industry was forced to.
The two factories give WD the ability to build 10 million drives a quarter, all of them currently parallel IDE. It recently announced Drivezilla, a 7200RPM ATA100 drive which uses three 67GB platters and six heads to reach 200GB of total capacity.
"We have been on a one and three platter strategy for four years now," Larsen says. "There's no point in building for two or four platters and depopulating, so we have a single-platter drive with one or two heads and a three-platter drive with three, four, five or six heads, because it is cheaper to depopulate heads than platters."
Drivezilla's problem is that most PC only have 28-bit IDE controllers, limiting them to 137GB. WD therefore ships a Promise 48-bit controller with each drive. "Most new Taiwanese motherboards are OK," Larsen says. "But for existing PCs, adding a $20 board is simpler than trying to get a new BIOS." S-ATA will also use 48-bit addressing. ®
Sponsored: Learn how to transform your data into a strategic asset for your business by using the cloud to accelerate innovation with NetApp