Symmetrix is back on top
EMC plays leapfrog with IBM, HDS - who's turn is it next?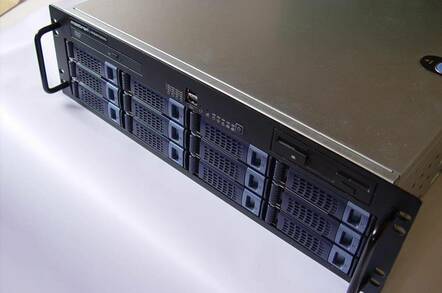 EMC has vaulted past rivals IBM and HDS to regain its crown as storage's King of Big-Iron. Its sixth generation Symmetrix DMX incorporates a new non-blocking direct matrix architecture, with up to 128 point-to-point connections between cache memory and the front-end and back-end controllers.
The company claims DMX is three to six times faster than the previous Symmetrix 8000 generation and more scaleable too, yet its pricing, which starts at $409,000 and runs to $2.5 million, makes it around 20% cheaper.
EMC chief executive Joe Tucci said the leap was possible because he cancelled an interim project - Symmetrix 8000 is now nearly three years old - to allow engineers to focus on DMX. "Clearly we've lost mind share and some market share in the past two years, and we're going to take it back," he added.
Symmetrix DMX also typifies the increasing blend between monolithic storage, such as Symmetrix, IBM's Shark ESS and the HDS Lightning family, and cheaper but smaller modular systems. For example, the entry level Symmetrix DMX800 is rack-mounted and uses the same disk carriers as EMC's modular Clariion storage.
The larger DMX1000 and 2000 models are integrated systems which scale to 21TB and 42TB respectively - the latter is a two-module version of the former.
All use 73GB or 146GB drives on 2Gbit Fibre Channel loops, with between 4 and 128GB of global cache. FICON support for IBM mainframe shops will be added later this year. Symmetrix DMX is rated at 64GBps of peak internal bandwidth, which is a huge leap over the Symmetrix 8000's 1.6GBps.
The leap has left EMC's rivals relatively little to crow about. Just about the only thing is standards - IBM announced a Bluefin/SMI management interface for Shark on the same day as EMC's launch, pointing out that while EMC has publicly committed to standards, it has yet to actually offer Bluefin products.
Whether this will matter to EMC customers is another matter. More important to them is likely to be the fact that the new Symmetrix boxes are software-compatible with the old, allowing them to replicate between the two and give their old iron a new lease of life as a mirror on a remote site.
Indeed, finding reasons for customers to keep their old Symmetrix system is absolutely vital for EMC. The company shipped a huge amount of storage around 1999, much of it on three-year leases that are expensive by today's standards and now represent a big potential revenue loss. ©
Sponsored: Minds Mastering Machines - Call for papers now open