IBM begins $500m iSeries revamp
POWER4 for the people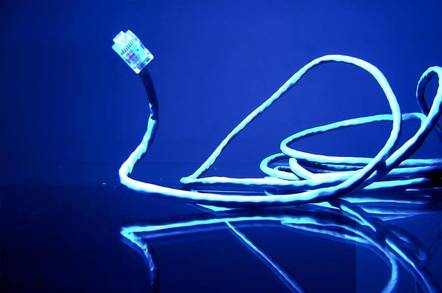 IBM today announced a revamp of its iSeries mid-range server line geared to breathing fresh life into the venerable technology through a two-year, $500 million marketing push.
The makeover includes the delivery of pre-packaged software, the introduction of the On/Off Capacity Upgrade on Demand by the day program, and price/performance improvements of up to 80 per cent with the introduction of four new POWER4 processor-based iSeries servers.
At the lower end comes the launch of one- and two-way iSeries 800 and iSeries 810 servers, with prices starting at $9,995. Both models are capable of running OS/400, Linux in a logical partition, and Windows on an integrated xSeries server. The two servers are designed with the needs of the SME market in mind.
Higher up the enterprise food chain comes the launch the iSeries 825 and iSeries 870 which scale up in power up to 32-way, POWER4-based systems. Like the existing iSeries 890, the servers are capable of running OS/400, Linux on up to 10 logical partitions on a single processor, and Windows on an integrated xSeries server.
With i825, i870 and i890 comes the introduction of a more flexible On/Off Capacity Upgrade on Demand program. This allows customers to activate processors when they need them, and turn them off when they don't. Users can now choose from temporary or permanent Capacity Upgrade on Demand options.
ebiz middleware packages go down a bundle
IBM is also debuting tighter software integration on the iSeries, with simplified packaging and software options for its range of ebusiness middleware.
iSeries Standard Edition Software, starting at $12,000, supports e-business applications and includes the capability to run multiple operating systems, Capacity Upgrade on Demand and dynamic logical partitioning.
The enterprise edition, starting at $78,000, includes IBM Lotus QuickPlace and Sametime, WebSphere - Express, Tivoli, and DB2 database software, as well as services for rapid deployment of ebusiness solutions. The package also includes processor activation for Linux on the iSeries 870 and iSeries 890, and integrated xSeries Server for Windows integration.
The four new IBM eServer iSeries models will be available on February 21.
IBM says it has shipped 750,000 iSeries (formerly AS/400) systems to more than 200,000 customers around the world since the introduction of the product line ten years ago. ®
Related Stories
IBM Q4 sales stable, profits hurting
On IBM's iSeries and OS/400 roadmaps
Sponsored: Minds Mastering Machines - Call for papers now open