SAP posts solid prelims
And explains US re-org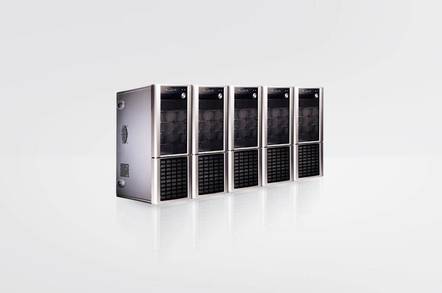 SAP AG yesterday announced preliminary fourth-quarter and year-end figures for fiscal 2002, anticipating full-year sales to be up slightly on fiscal 2001, writes Jason Stamper.
It said it expects software license revenue for the fourth quarter to be around €950m ($997.5m), beating analyst expectations but nevertheless down about 8 per cent from €1.03bn ($1.08bn) in the fourth quarter 2001. The better-than-expected results raised hopes for an improvement in the fortunes of enterprise software companies in 2003.
More details also emerged of the motivation behind the restructuring of the enterprise software giant's US sales force and global support organization. SAP has laid off 88 US salespeople, fired a further 44 for under-performance, and laid off 42 from the company's global support organization's US operations. Some of those 42 positions may now be filled by staff at the company's Dublin, Ireland support center.
The sales force restructuring was initiated by CEO and president of SAP America, Bill McDermott, who took the helm of the US operation three months ago and came from Siebel Systems Inc. In a message to his US sales force, to which ComputerWire was given access, McDermott said: "Customers clearly want to see a three to five year plan. Where are we going?" He continued: "Given the situation that customers want to work with a company they know has been reliable, we need to work together with customers to support them on their challenges for five years from now."
Asked whether the restructuring and lay-offs among the US sales team are now completed for the foreseeable future, an SAP spokesperson told ComputerWire: "You should never say never." He added: "The restructuring of the US sales force is something where [McDermott] is looking into the organization and deciding how best to align the teams. Then he will be looking if it has worked."
McDermott restructured the US sales force to operate along regional, rather than vertical industry-focused lines. In Europe, some countries' sales teams are aligned by industry vertical and some on a regional basis. In the company's native Germany, the sales teams are aligned by industry vertical.
Asked whether SAP is likely to have to conduct any restructuring of its European sales force, the spokesperson said simply: "In the Americas region including Latin, Mid- and North, revenues declined 4%, and in North America by 1%. In the third quarter 2002 revenue from European operations grew by 9%." He said the decision to recentralize a number of positions within the company's support organization to Dublin, Ireland, is part of an ongoing process of reducing costs within its support operation, while improving customer service. Floor space in the Dublin center was increased during 2002, the spokesperson said.
The spokesperson said McDermott has also hired about eight executives since he took the SAP job in September, including people from PeopleSoft Inc, Gartner Group Inc and Unisys Corp. Prior to his job as EVP of worldwide sales operations at Siebel, McDermott was president of Gartner where he led its worldwide business operations.
Meanwhile, in SAP's preliminary fourth-quarter results announcement yesterday, the company said it expects its operating margin excluding stock-based compensation and acquisition-related charges to increase by 1%, to 21%. The company said it will provide additional preliminary results on January 30. The spokesperson said he could not comment on the company's preliminary results, other than to say that the company is confident it gained market share during the fourth quarter.
Analysts were encouraged by the preliminary results. ABN Amro, for example, pointed to the 118% increase in sequential license revenue for the fourth quarter. "Clearly, this will provide some momentum to the [company's stock] price and we expect it to move closer to the 95-100 euro level," the firm said in a research note. At the time of writing, SAP's stock was up over 3% to 88.95 euros on the Frankfurt Xetra.
However, ABN AMRO also said: "although the 4Q performance is stellar we suspect that enterprise software spending will remain tight in 2003."
© ComputerWire
Sponsored: Minds Mastering Machines - Call for papers now open