Cisco recruits IBM for storage attack
Operation SAN Storm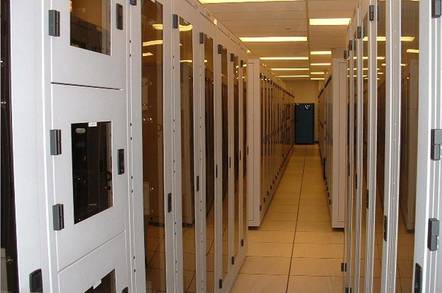 Cisco Systems Inc is about to begin its assault on the turf currently dominated by McData Corp and Brocade Communications Systems Inc, and has at last recruited IBM as the first vitally-needed ally to resell the SAN switches and directors it first unveiled last summer.
The MDS 9000 series of Fibre Channel and IP switches and directors to be resold by IBM starting some time this quarter represent Cisco's first true entry into the storage market. Despite some misperceptions of the products as hybrid IP and Fibre Channel devices, IP is intended solely as an option and initially they will ship only with support for Fibre Channel. This makes them direct challengers to existing products from suppliers such as Brocade Communications Systems Inc or McData Corp, which have never before faced such competition from a player with such size or track record.
But without the support of a major storage supplier, Cisco's attempt to take on Brocade and McData would have been doomed, because of its almost total lack of a storage track record. Although other large storage vendors such as EMC Corp or Hewlett Packard Co were already very likely to take on Cisco's products, the fact that IBM has broken the ice will help speed their recruitment.
"It's taken a long time for Cisco to sign up a major partner. Cisco's new to the storage business and there was a lot to sort out - such as would the product work, was the support structure in place, and issues for support such as the terminology," said Randy Kerns, partner at storage consultant the Evaluator Group.
IBM said that it will not start shipping the hardware until the end of February at the earliest. "The whole industry has been waiting to see what would happen. We thought it was appropriate to prepare the market ahead of time, " said Craig Butler, IBM brand manager for mid-range storage products.
EMC Corp confirmed that it has been testing Cisco equipment in its certification laboratories, although it would not say when or if it will qualify the products or begin reselling them. HP already rebrands Cisco's Ethernet switches, and yesterday made it clear that it intends to follow IBM's lead, although it too refused to say when.
Roger Archibald, vice president of infrastructure at HP's network storage solutions said: "Adding Cisco Fibre Channel switches is a natural extension of our offering, and our long relationship with Cisco. For those customers that want to build SAN infrastructures using Cisco components in the future, they can continue to work with HP."
Despite or perhaps because of Cisco's status as a champion of IP, Archibald added a plug for Fibre Channel: "For all customers, Cisco's entry into the market confirms that Fibre Channel will continue to be the network fabric for high performance storage solutions."
Kerns said that despite the time it has taken for Cisco to recruit IBM, it will inevitably sign up other suppliers. "It's a good idea to OEM with multiple suppliers, because you can cut a better deal. Cisco has the potential to drive prices down because of their size, and because they're a switch supplier. IBM should be able to lever this deal," he said.
So why are HP and EMC apparently not as eager as IBM to sign up? "Because it might be better to let somebody else have the pain of teaching Cisco how to do storage support, and dotting the i's and crossing the t's. That's what I would do if I were them," Kerns said.
The devices IBM will resell are Cisco's MDS 9216 16-port to 48-port storage switch, and the MDS 9509 16-port to 144-port director. These modular devices will first ship only with Fibre Channel support. At the end of the first quarter, Cisco will ship blades that will fit any MDS 9000 devices and will include 8 ports supporting any combination of the IP-based iSCSI and FCIP storage protocols.
Despite the existence of the smaller 9216, both Cisco and IBM said that the best sales prospects will be among larger customers. Many of these customers run multiple SANs which are kept separate for reasons of security and reliability. Cisco is pitching what it calls Virtual SAN technology in the MDS9000 which will allow them to consolidate those separate networks. VSAN, which involves adding a header to Fibre Channel data packets, allows one physical network to carry multiple logical networks.
"The sweet spot at the moment seems to be those customers who have already implemented a SAN, but want to scale out with diagnostics and stability. This is not necessarily the early adopter," said Jackie Ross, vice president of marketing at Cisco.
"I think a lot of these customers are going to link up their SAN islands with the MDS 9000," Butler said. He claimed that IBM has received enquiries about the Cisco from customers in a range of industries. "Originally I thought it was just going to be the telcos, but it's actually been across the board," he said.
In 2001 Cisco shipped its first storage networking product, which was the 5428 iSCSI and Fibre Channel switch. Cisco has not said how many of these devices it has sold, but the number is certainly very low. iSCSI has so far enjoyed almost zero take-up in the market, and has suffered from a drastic lack of support from other major suppliers.
Cisco would not say what the future of the 5428 is. It admitted that there is an overlap with the 9216, but said that, unlike the newer device, the 5428 is aimed at SME customers.
© ComputerWire
Sponsored: Learn how to transform your data into a strategic asset for your business by using the cloud to accelerate innovation with NetApp