Quantum trails but talks terabytes
Try not to burp in public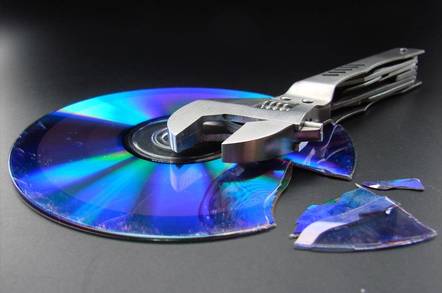 Having lost the technology lead to LTO and begun digesting its technology partner Benchmark, DLT developer Quantum is instead talking up its plans for the future. Its new merged roadmap claims it will leapfrog Ultrium-2 in mid-2003 and hit the terabyte per cartridge mark by the start of 2005.
The main gains from Benchmark for Quantum, which already owned 20% of the company and bought the rest back in September, are a wider range and Benchmark's expertise in cost reduction, says George Kreigler III, senior veep and general manager of the DLTtape drive division at Quantum.
The plan is to run two product lines in parallel, with the full-height superdrive category at the leading edge of capacity and speed, while the Benchmark-derived value line will be two generations behind on capacity and speed, but in a cheaper half-height format.
Due in the middle of next year, the SDLT-600 will store 300GB per cartridge uncompressed, with a native data transfer rate of 35MB/sec. It will also feature a memory chip in the tape cartridge to hold the file table, enabling the drive to find data faster, and will be the first DLT drive with optional Fibre Channel connectivity. An 80GB value drive called the VS160 will partner it, after which the Quantum and Benchmark teams will be mingled.
All that means LTO should retain the lead in the superdrive tape market for at least six months, with second generation Ultrium drives from HP, IBM and Seagate offering native capacity of 200GB and transfer rates of 30MB/sec, ahead of today's SDLT 320 which provides 160GB and 16MB/sec.
Kriegler admits that LTO has shipped more in total, though he says that Quantum has shipped more superdrives than any individual LTO vendor. He adds too that LTO vendors develop their own drives independently, so while they use the same cartridges, there are also incompatibilities. For example, the tape loading slots vary in position, so tape library vendors cannot substitute one vendor's drive for another without adjusting their robotics.
The Quantum roadmap calls for cartridge capacity to double every 18 months, says Kriegler, who adds, "Product life was three to four years, now it's down to two years."
He highlights 1TB, which has already been achieved in the labs by several companies, as a milepost for the industry: "When you have a 1TB cartridge, getting to your data faster will be key. Things have to change - it's not just speeds and feeds, your users need a simplified experience. We're looking at how you cut up the data so you can get at it quickly - it's a fun thing to look at, how you can segment a terabyte.
"You can speed up access, but it requires you to change how you lay down the data. It's not just one vs two reels, the whole thought process has to change around how you get the data on and off. We will have to work with our backup partners on that." ®
Sponsored: Minds Mastering Machines - Call for papers now open