IBM 16-way Xeon server hits the shelves
x440 here just in time for Xmas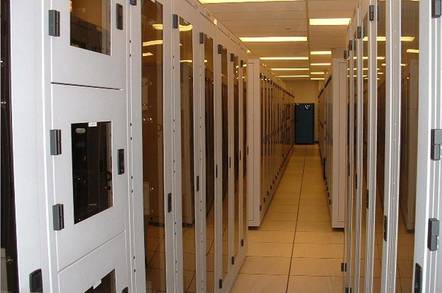 IBM today started volume shipments of the eServer x440, a 16 processor Xeon machine.
Big Blue has been making a great deal of noise about the x440 server of late. Look how the x440 included "second generation" 2.0GHz Intel Xeon MP (Gallatin) processors before Dell or HP. Or how 16 processor x440 servers will bring Windows into the data centre. Or how their Dad's serveris bigger than their competitors' Dad's servers, and on and on.
Today, with the general availability of the 16-way x440 IBM, which comes with a "pay-as-you-grow" pricing model, its time for the company to give us a unexpurgated version of its more pro-active sales pitches (it's used all the benchmarketing figures already).
IBM is offering customers industry-standard servers powered by 16 Intel Xeon processors. Dell and HP have yet to deliver 8-way Xeon-based systems, it thunders. We'd add - not in volume, anyway. Unisys has a competing 16-way processor system but this occupies five times the space as an x440 system, IBM argues.
And there's more.
IBM says it overtook HP as the revenue leader in eight-way Intel processor-based servers in the third quarter of this year, citing IDC figures. The x440 is key to this sales growth, apparently.
The 16-way x440 models starts at $81,332 (for a system featuring 16 Intel Xeon processors MP, 8GB memory and two 18GB hard drives but not inclusive of the price of the operating system). Like other xSeries systems, the x440 supports Linux and Microsoft Windows. ®
Sponsored: Minds Mastering Machines - Call for papers now open