EMC loses storage crown to Hitachi – briefly
Delaying the inevitable?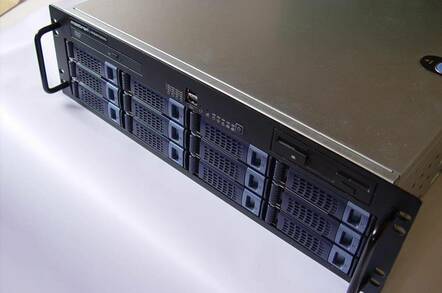 For a few hours, Hitachi Data Systems last week took the number one slot in the high-end storage array market from EMC Corp, according to estimates issued last week by investment bank AG Edwards.
The bank revised its market share estimate only hours after they were first issued, after EMC disputed its analysis and persuaded it that its first take was wrong. The revision reduced HDS' share to a shade below that of EMC's. Judging by the trends however, HDS' victory has only been delayed and the next quarter's figures are extremely likely to show HDS running in front - regardless of any revisions.
According to AG Edwards' revised figures, the share of global high-end storage array revenue taken by EMC's Symmetrix device plummeted from 51.2% in the second quarter to 39.9% in the third quarter. Meanwhile sales of the HDS Lightning array surged by around 30% during the third quarter, taking its share from 29.5% to 37.4%. The only other supplier of high-end RAID storage, IBM Corp, increased the share it took with its Shark array from 19.4% to 22.7%.
EMC's Symmetrix is suffering from a widely-held belief that its bus architecture has been outclassed by the switched architecture of the Lightning. A major update to the Symmetrix is expected to ship within the next few months, but until then its sales will suffer. Another factor behind the surging Lightning sales could be increased contribution to sales by Sun Microsystems Inc, which like Hewlett Packard Co is selling rebadged versions of the box.
Shebly Seyrafi, the AG Edwards analyst responsible for the estimates said that he had revised EMC's share upwards after the company disputed his estimate of the proportion of its revenue taken by its Connectrix range of re-badged SAN switching gear.
Before the revision, the bank said that Hitachi's share of global revenues for high-end was 38.7%, and EMC's share was 37.8%. A strict comparison between AG Edwards' figures and the quarterly market share estimates made by researcher IDC is not possible. Unlike AG Edwards, IDC does not count Hitachi hardware re-badged and resold by either Sun or Hewlett Packard Co as HDS revenue. It also does not separate revenues for high-end devices from those for other products. For the second quarter however, IDC estimated that EMC's share of the overall external RAID market was sequentially flat at 22%.
© 2002 ComputerWire.
Sponsored: Minds Mastering Machines - Call for papers now open