IBM, HDS, Sun, VERITAS form storage management gang
Yeah! Baby!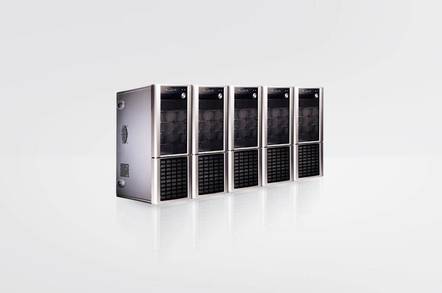 Hitachi Data Systems, IBM, Sun Microsystems and VERITAS Software Corporation announced on Tuesday "a new effort dedicated to the promotion and progress of SNIA's Common Information Model (CIM), Web-Based Enterprise Management (WBEM) technology and Storage Management Initiative (SMI) specifications (formerly Bluefin) for Storage Area Network (SAN)-based storage management".
A quick glance at the participating organisations immediately highlights the fact that certain other leading vendors, for instance EMC, Hewlett Packard, Legato, CA and Fujitsu Softek, are not to be found amongst the launch membership. It has been reported that both HP and EMC were approached to join the initiative and that HP refused to join up. The four members state that the effort is open to all storage vendors.
A glance at the group's stated objectives perhaps indicates that there is little of substance behind the new initiative. Participating vendors are expected to ship CIM/WBEM based storage management software commercially in calendar year 2003, support the emerging SMI specifications endorsed by the Storage Networking Industry Association (SNIA), make their CIM Providers (SMI Agents) available to others for testing, conduct joint interoperability testing and qualifications and support the CIM/WBEM interface as specified by SNIA' s Distributed Management Task Force (DMTF).
In fact, nearly all of these requirements are part of the standards based approach that the SNIA and its members are currently pursuing. In fact, all of the parties involved in the new initiative are active members of the SNIA as are the vast majority of storage suppliers.
Until recently the only viable route via which vendors could produce management tools capable of working in heterogeneous environments has involved suppliers making bilateral agreements to swap management APIs with each other. In these days when litigation is an almost everyday occurrence, it is frequently difficult for vendors to make such agreements with as many of their competitors as users would wish.
The SNIA and its members are working to architect and promote truly open standards that will provide the cross platform functionality desperately needed by end users. Unfortunately, the SNIA's standards will only slowly provide the heterogeneous capabilities that are needed. Until then, API swapping is very much the order of the day.
On the face of it, the announcement from HDS, IBM, VERITAS and SUN adds little, except a few product delivery schedules, to the SNIA's own initiatives. On the positive side, it is always good to see some public signs of cooperation from otherwise very competitive companies.
Related Story
Standards Ahoy! Bluefin and CIM products out next year
Sponsored: Minds Mastering Machines - Call for papers now open