Standards ahoy! Bluefin and CIM products out next year
Storage industry really is working together. Honest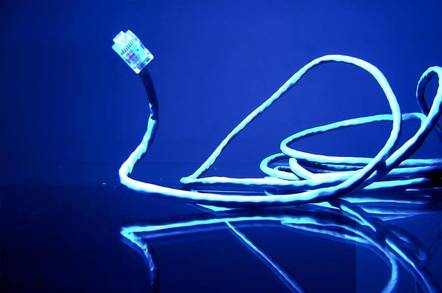 The Register's new Enterprise Storage Channel
Hitachi, IBM, Sun and Veritas today jointly promised to deliver interoperable tools for managing storage - and products to manage - during 2003.
It is an effort to reassure customers that they really are serious about SNIA's storage management standards. But will it succeed? The vendors have realised many listeners don't trust them when they talk about standards. Recent announcements about API swaps and reverse-engineering, for example, have left people believing that standards-based storage interoperability is still years away, according to Tom Butler, Hitachi US product planning and marketing veep.
"API swaps are only valuable in the short term," he says. "We want to say we're not betting the future on swapping APIs - those proprietary exchanges are only a Band-Aid that breaks as soon as one company changes its product."
Butler admits that Hitachi is as guilty as any, having struck API deals with IBM in the past, but he says it is now nailing its flag to the SNIA mast. Like its comrades, it will support three key SNIA standards: the common information model (CIM), Web-based enterprise management (WBEM) technology, and the storage management initiative (SMI) specification formerly known as Bluefin.
"These four companies are betting their storage management strategies on CIM," he says. "There is no formal commitment or organisation involved, but we are giving rough timescales. We want people to know we are working on these standards."
He adds that all four companies will participate in a plug-fest at the Storage Networking World show in Orlando later this month, demonstrating their storage management products working together. ®
Related stories
HP plays API swaps with Hitachi
HP and IBM swap APIs in managed storage move
Bluefin caught by SNIA, renamed SMI
Sponsored: Learn how to transform your data into a strategic asset for your business by using the cloud to accelerate innovation with NetApp