Carly's bananas to worry about Dell ink
And a gentle Linux corrective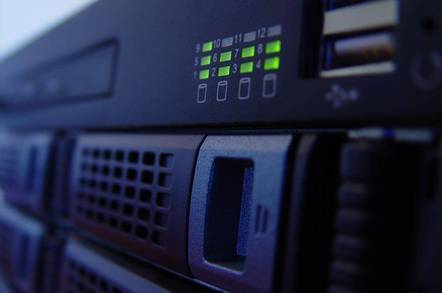 Letters Quick question for you, by way of introduction:-
What happens to naughty children who ring doorbells and run away? They grow up to become Fed Ex delivery agents!
Here at The Register's West Coast Bureau, we're gathering delivery notices faster than we gather parking tickets, and that's saying something when you live slap bang in a the center of a small town which has far too many cars already, and nowhere to park. But six delivery notices in two weeks from Fed Ex line the office, and on five of those occasions, we were in, the local agent didn't even ring the bell.
Racing downstairs in indecent dress one morning this week, we managed to collar one agent (he had actually rang the buzzer) before he could run away, and asked why so few delivery attempts were actually attempted.
"There's all those codes and numbers to press," he said before shrugging and walking off.
See, no matter how clever your automation systems might be - and FedEx was the first to provide web-based tracking, and we've met the CTO and he's a very smart guy indeed, it all falls apart if your human wetware isn't up to the job.
Technology CEOs should repeat, every day, the truth: which is that the world is held together by people who value doing an excellent job - bakers, cheese makers, hacks - and when such people are aren't valued, it isn't a sign of a healthy economy, it's the sign of a sick one. Excellence is the invisible string that keeps us from barbarism.
Now Dell Computer has been praised for its focus on process automation, and damned too: but one conscientious employee wrote to take issue with our summary of its Linux business.
In Dell nukes HP with printer pledge we wrote:-
But Dell doesn't know anything about Linux either, arrived late, and it's made a success of its Linux business.
A Dell Linux team member replies:-
I'd like to suggest that you better check your facts when making such claims. Dell has been factory installing Linux since Red Hat 6.1. While I appreciate your correct assessment that we have made a success of our Linux business, we certainly did not arrive late.
Furthermore, this is readily apparent when attempting to order Linux as a factory installed option from the various hardware vendors offering Linux solutions.
Gary Lerhaupt
Linux Development
Dell Computer Corporation

Now Gary doesn't work in PR, but he did their job for them. So thanks. Dell isn't just populated by robots and prisoners.
---
Carly reckoned that HP's printer ink margins justified continued investment in new work, but not everyone agrees:-
What's left to R&D? Printers are now producing photographic quality prints. This fits in with the general problem of the computer industry today: the computers we have now are sufficiently big and fast for the HUMAN SCALE jobs
of the average user.
We are now at (or at least very near) the point where more resolution is needed. So what's left to research and develop? Maybe longer lasting inks, or more speed. But we are close to the point where there is no point in further innovation. Do we need attoliter droplets in our prints? So much resolution that a microscope is needed to see the pixels? No.
John Hinkley

Thanks John - but that's the old "computers don't need to get any faster" argument people used to advance when text based Windowing systems were vying with GUIs. I was one of the people who argued this, and I was wrong.
In an article by ARS analyst Gary Petersen entitledDude, Who Cares That You Have Printers?, which we recommend wholeheartedly:-
"Dell will sell more consumables online, will be an influence in the corporate printer market, and will be doing this with very little risk to its own business model and profitability. But, Dell will not take the smallest of drops from Hewlett-Packard's ocean of ink consumables profits, will not touch Epson's hugely popular niche in photo printers, and will not dent Brother's ability to sell to the low-end laser market," concludes Gary.
It's a great read, and you can find it here.®