Sun preps server, clustering, blade launches for November
Stealing HP thunder?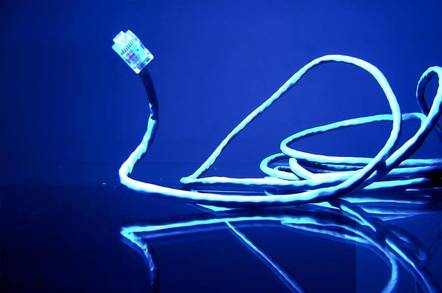 The word on the street is that Sun Microsystems Inc is getting ready to make a whole slew of server announcements in November, possibly including the Sun Fire V1280 12-way server, Sun's first entries into the blade server market, its WildCat"system clustering technology, and maybe even a refreshed Linux server line,
Timothy Prickett Morgan writes
No one seems to know for sure exactly what Sun will roll out, or when, but the indications are that Sun will make at least some announcements prior to or during the Supercomputing 2002 trade show, which focuses on the HPC server market, that is running in mid-November in Baltimore, Maryland.
Sun has been talking publicly (if vaguely) about delivering a 12-way version of its V Series of UltraSparc-III servers since February 2002. The V Series machines, with the V standing for Value because many of the high-end partitioning features of the "Serengeti" class of Sun Fire enterprise servers are stripped out of the V Series machines, which enables Sun to sell them for less money than the true Sun Fire boxes.
It costs twice as much money to buy a configured eight-way Sun Fire 3800 server as a V880 Daktari server with the same processors and same raw power, which is one of the reasons why the V880, Sun's so-called Wintel killer, has been a very popular machine in the Sun catalog since it was announced about a year ago.
The V Series servers are based on two-way UltraSparc-III motherboards that are used in the Littleneck Sun Fire 280R servers (announced in September 2000), the V880s (from October 2001), and the Cherrystone V480s (announced in June 2002). It seems logical that the V1280 would simply include six two-way UltraSparc-III boards, but Sun could build the V1280 on a stripped-down version of the four-way boards that are used in the midrange Sun Fire 3800, 4800, and 6800 servers.
Exactly what processor Sun will announce for the V1280 is uncertain, but given that it has said that it will not ship the 1.2GHz UltraSparc-III+ processor until early next year, it seems unlikely that the V1280 will get this processor, which will be the fastest one that Sun's fab partner, Texas Instruments, can deliver. Sun has 900MHz, 1.015GHz, and 1.05GHz UltraSparc-III+ parts available - in diminishing numbers as the clock speed increases - and could announce the V1280 in any of them.
Sources familiar with the machine say that the company has been testing a box with the 900MHz processors and 96GB of main memory, but it could offer all three processor speeds a month from now.
Psychologically, Sun probably wants to have the box ship with a chip that is faster than 1GHz, and considering that this is essentially a lower volume, server consolidation box, Sun won't need that many 1GHz chips to fill its orders. We've caught wind of a machine called the Netra 1280, which is presumably a more ruggedized, DC-powered, NEBS-compliant version of the Sun Fire V1280.
Less is known about the forthcoming blade servers from Sun. The company probably will not call them blade machines, since Sun Blade is the moniker on its UltraSparc-III workstations. People familiar with the machines say that they will resemble the QuickBlade line of Blade machines from Hewlett Packard Co and designed by Compaq, which it acquired in May. The QuickBlades, marketed as the ProLiant BL line, can pack up to 280 processors into a single rack. The future Sun blade servers could be truly revolutionary and offer UltraSparc and Intel-based blades in a single chassis - something that both IBM Corp and HP are promising to eventually offer to their Unix customers in their respective BladeCenter and Powerbar blade machines. We've heard from one source that the blade machine from Sun might be called a V1270, but have not been able to establish this through other sources.
The WildCat high-performance system interconnect, which is based on Fibre Channel technology, is expected to debut in a line of machines that have been referred to within Sun as the MaxCats. The WildCat interconnect can link up to eight machines into a single system image. Very generally, the WildCat interconnect provides the same function as IBM's SP2 Colony switch for clustering together Power4-based pSeries Unix machines into parallel supercomputers.
WildCat was expected to be delivered last September alongside the 72-way StarCat Sun Fire 15000 servers, but which Sun has been tweaking and tuning it. At the end of July, Sun announced that the Cambridge-Cranfield High Performance Computing Facility (HPCF) that is run by the University of Cambridge and Cranfield University in the UK had bought a MaxCat configuration with 2 teraflops of computing power employing the WildCat interconnect for $40m. This is Sun's largest HPC deal to date, but if it can get WildCat out the door, it could chase a lot more deals.
© ComputerWire
Sponsored: Learn how to transform your data into a strategic asset for your business by using the cloud to accelerate innovation with NetApp