SPARCs fly: Tadpole sells hardware biz
MBO team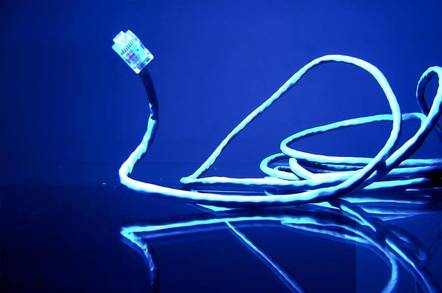 Tadpole is selling its niche SPARC-based hardware division to a management consortium backed by an unnamed Hong Kong investor.
It will receive up to $11.6m - $3m in cash, $2.5m in a 7.5 per cent five year promissory note, and $6m by way of 5 per cent five-year convertible subordinated promissory note. The convertible bit is an option retained by Tadpole to take a 19.5 per cent stake in the hardware business, which sells SPARC-based laptops and rack servers.
Tadpole will continue to operate its software business, which it describes as a leader in peer-to-peer networking software. With a string of software customer wins under its belt (NTT, RSA, Ordnance Survey etc.) Bernard Hulme, group CEO, says it is the "right time for the software business to go it as a standalone."
There is certainly an element of risk here - R&D investment in the software division accounted for 82 per cent of the £2.8m loss reported in the group's last interims. In a statement at the time, Tadpole said it had used £2.7m of an £10m equity drawdown facility, set up in January this year. Also it has access to only $3m cash upfront-ish from the sale of the hardware division - although it also gets rid of a another lossmaker and probably it frees up some working capital too.
But Tadpole's focus on funding the software arm, and its small size, shows why it needs to divest. The split is prompted by the need to fund some promising network performance technology developed in-house at Tadpole's hardware division, Hulme said: "We publicly committed to running the hardware division on a cash-neutral basis. So this (the demerger) is an excellent solution, giving investors potential to participate in a liquidity event around the hardware division."
The network technology is based around something called TCP/IP offload engines. Up to a third of data input and output is taken away from CPU, often a performance bottleneck, increasing network speeds by up to 80 per cent, Hulme says.
Tadpole's current hardware division comprises its historic SPARC-based laptop business and a SPARC-based rackserver line, added through the December 2000 acquisition of Cycle Inc. of the US. It's lossmaking and pretty small, but costs are under control, and the firm is well-positioned to take advantage of any upturn, Tadpole Technology says.
The hardware MBO team, led by Mark Johnston and John Bannon, were inherited through Cycle. They already own 23 per cent of Tadpole Technology LLC, a company within Tadpole's hardware division. ®
Related story/press release
Tadpole cycles into SPARC Rackmounts

Sponsored: Learn how to transform your data into a strategic asset for your business by using the cloud to accelerate innovation with NetApp