Network Appliance ends NAS-SAN war
Wins over Microsoft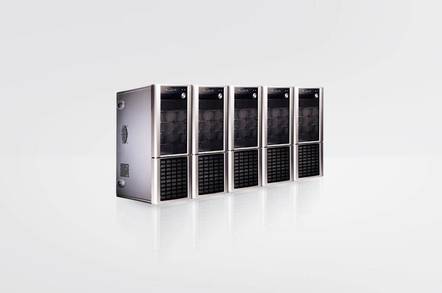 The NAS-SAN wars were fully ended yesterday when even Network Appliance Inc crossed the divide,
Tim Stammers writes
. Yesterday it launched its first storage hardware that can handle both NAS-style file data transfer, and SAN- or DAS-style block data transfer, as well as the Fibre Channel protocol used in SANs.
The move is linked with the more significant news, at least for NetApp, that another conflict has also ended. It has at last persuaded Microsoft to approve the use of its hardware with the Exchange email system. NetApp said Exchange is probably the single most common application that its hardware is used with.
Once the champion of NAS file-level access and a scathing critic of SAN or block-based storage, NetApp has followed the lead set by other suppliers and has embraced what it is calling "Unified Storage," or "Fabric Attached Storage." The launch of the FAS9000 arrays is part of what NetApp declared is its intention to become one of the top three vendors of enterprise storage by 2006, and was accompanied by the launch of a high-end synchronous mirroring data protection function.
"Today NetApp is entering the SAN world. You can't imagine how weird that feels to me....for five years I've been explaining why SANs suck," said NetApp's executive vice president of engineering Dave Hitz.
But this doesn't mean that NetApp is going to hop down from its new fence-straddling position on to the other side. Asked whether NetApp will ever make a block-access-only storage device, Rich Clifton, NetApp vice president said: "Probably not."
Dual SAN-NAS capabilities are already available in devices such as EMC's Cellera, or HP's E7000 NAS heads. These are data pumps that are used in SANs to connect application servers to disk arrays storing data either SAN-style at block-level, or NAS-style at file-level.
The NetApp devices launched yesterday also handle both block-level and file-level data on the same disk arrays. They can also handle both SAN-style Fibre Channel and NAS-style Ethernet connections simultaneously, via an upgrade to the NetApp operating system.
Steve Duplessie, analyst at the Enterprise Storage Group said of NetApp's annoucement: "This isn't going to change the course of history, but it is important if you're a NetApp customer. Less is more when it comes to the number of suppliers you have to buy from." On that basis, he said it will help NetApp defend its existing accounts from the encroachment of suppliers such as EMC, which according to some estimates has taken major chunks from its market share recently.
Microsoft's decision to list NetApp hardware on its Hardware Compatibility List - HCL - and approve it for use with Exchange ends a long-running conflict between the two companies. That conflict was fought on technical grounds, and arose from Microsoft's decision to end support of file-level CIFS-based access of data by Exchange post-office central servers. At its peak last year it saw NetApp publicly accusing Microsoft of "random acts of senseless violence."
Even though NetApp engineered a software workaround which allowed its arrays to be used with Exchange 2000 despite the latter's lack of CIFS support - which was sound enough to be supported by IBM's Global Services organization - Microsoft withheld its support.
NetApp president Tom Mendoza said yesterday: "We've battled with Microsoft for some time to convince them that NAS is the way to go, but they didn't go for it."
Mendoza appeared to be about to admit how much of a handicap the lack of Seattle support has been, but corrected himself in mid-sentence. Referring to Exchange, he said: "Without Microsoft backing - it's probably the biggest application for NetApp."
Later Hitz said: "We're very pleased to have the HCL. It should help a lot in selling." In case there was any doubt about Microsoft's approval, a screen shot of the HCL web page showing NetApp's listing was projected 6-foot high behind the executive.
NetApp's new SAN capabilities are based on the software workaround it developed for use with Exchange, which is called SnapDrive. The workaround overcomes the mismatch between Exchange 2000's need for block-level data and the CIFS-format file-level data handled by NetApp's arrays until now.
© ComputerWire
Sponsored: Minds Mastering Machines - Call for papers now open