HP fires patent lawsuit, EMC fires back
Out of the blue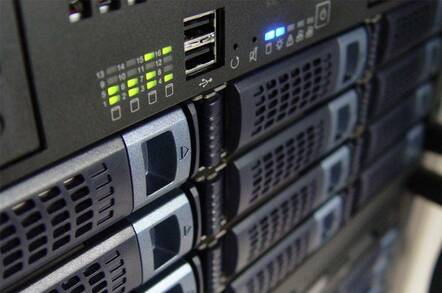 The Register has a new Enterprise Storage Channel
The lawyers have been called out once again in the storage industry, this time on behalf of Hewlett Packard Co and EMC Corp which traded patent-infringement lawsuits yesterday.
HP threw the first punch, filing a surprise lawsuit yesterday morning that named seven patents from the mid-nineties that it alleges EMC has infringed. HP fiercely rejected EMC's allegation that the move was simply a publicity stunt. If that were true, the effect of the move was at least partly neutralized by EMC's lightning-fast response.
EMC, which said that HP's legal assault came "out of the blue," retaliated within only a few hours by launching a counter-suit alleging that HP had infringed six of its patents. Both sides are seeking full satisfaction in the form of monetary damages and injunctive relief - ie a court order forcing the other side to remove products or technologies from the market.
EMC and HP have said that the lawsuits do not have any bearing on the companies' API-swapping deal that was signed last year.
HP named EMC's Symmetrix and Clariion arrays, and its TimeFinder software as infringing HP patents. From the other side, EMC did not name the allegedly offending HP products, but said the patents concerned covered technology in its SRDF and TimeFinder software products.
HP's lawsuit contrasts with EMC Corp's status as a long-established supplier of very high-end storage technology, and HP's track record as a developer of only mid-range storage technology.
EMC said that HP gave no warning of the lawsuit, and made no attempt to strike an out-of-court settlement before it was launched. Referring to its own lawsuit launched against Hitachi Ltd earlier this year, EMC said that it had been in negotiation with Hitachi for three years before resorting to legal action.
HP entirely rejected EMC's suggestion that its suit was simply an attempt to seek attention. "That's a pretty outrageous thing to say when they're clearly infringing on somebody else's intellectual property. It's a Clinton-esque statement," a spokesman for HP said.
HP's suit was filed in the Northern District of California. The patents it names cover topics including data transfer between storage media, reducing the number of read and writes in RAID, switched storage networks, and the handling of RAID disk failures.
Four of the seven patents named in HP's announcement of its lawsuit originated between 1992 and 1995, from Digital Equipment Corp, Compaq Computer Corp, and HP itself. A fourth, concerning AC mains power selection dates from 1996, and was first filed by HP. The numbers listed by HP for the other two patents refer to non-storage related technologies, according to the US Patent Office web site.
EMC's suit was filed in the US District Court in Worcester, Massachusetts, and the patents it refers to all originated from EMC Corp, between 1993 and 1997.
For HP to achieve its stated aim and win a court injunction forcing EMC to disable some features of its products, HP's lawyers would not only have to prove have to convince the court that an injunction would serve the public's interest. That would be as well as proving that its patents had been infringed. which would not be an easy task - as David Hill, analyst at the Aberdeen Group pointed out.
"With all the commingling of technologies that has happened it's very hard to separate which technology belongs to which company. It's a very complex matter to prove patent infringement," Hill said.
Elsewhere in the storage industry, EMC and Hitachi have patent infringement lawsuits pending against each other, and McData Corp has a patent suit pending against Brocade Communications Technologies Inc.
© ComputerWire
Sponsored: Learn how to transform your data into a strategic asset for your business by using the cloud to accelerate innovation with NetApp