HP beats IBM on TPC-C (trails Fujitsu-Siemens)
TPM on TPM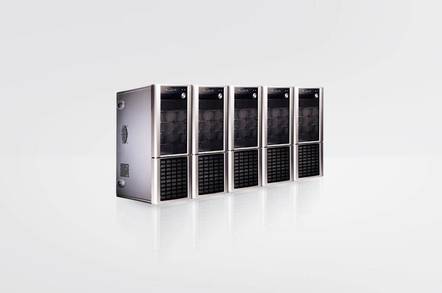 Back at the end of May when Hewlett Packard Co announced the 875MHz PA-8700+ processors for its Superdome line of 64-way enterprise Unix servers, the company hinted that it had high hopes of handily beating IBM Corp's performance results with the "Regatta-H" pSeries 690 32-way servers. These boxes were able to crank through more than 400,000 transactions per minute on the industry standard TPC-C OLTP benchmark,
Timothy Prickett Morgan writes
.
While no vendor likes to make promises, HP said at the time that it was shooting to best IBM's results by 20%, which would have put the fastest Superdomes in the range of 480,000 TPM on the TPC-C test. This week, HP announced that it has indeed surpassed IBM's top-end throughput on the TPC-C test with a rating of 423,414 TPM, but this is not as high as HP apparently thought it could reach.
The results that HP posted on a Superdome server configured with 64 of those 875MHz processors, which have 17 percent faster clock cycles than the 750MHz PA-8700 processors used in the Superdome and other rp Series of Unix servers from HP, were the highest results posted on the TPC-C test using an Oracle database. But they are not the highest audited results posted to date.
A year ago, Fujitsu Siemens tested its 128-way "Kaiser" PrimePower 2000 servers, using its 563MHz Sparc64-GP processors and delivered 455,818 TPM on its Solaris-compatible machine with a price/performance of $29 per TPM. In July, Fujitsu Siemens delivered 788MHz Sparc64-GP processors for these machines, and said that Kaisers using these processors would deliver about 23% more OLTP and commercial performance compared to machines using the 563MHz Sparc64-GPs.
While TPC-C frowns on using estimated performance, a 128-way Kaiser should be in the range of 560,000 TPM running the SymfoWare relational database created by Fujitsu and used by both Fujitsu Siemens and Sun Microsystems in the TPC-C tests that they run. As we have said in the past, a 72-way "StarCat" Sun Fire 15000 server using 900MHz UltraSparc-III+ processors should, in our estimation, handle about 335,000 TPM, and maybe a bit more running Solaris 9 instead of Solaris 8.
How that StarCat would do running Oracle 9i is an even more wild guess than that estimate for running the SymfoWare database, and both Fujitsu Siemens and Sun are well aware of this and seem to have no inclination to help anyone make estimates of Oracle performance on their top-end iron.
Moreover, HP did not have to resort to 128-way SMP to get above 400,000 TPM; IBM is getting by with one-quarter of the processors of a Fujitsu Siemens Kaiser and delivering performance that is in the range of the much bigger (in terms of processor count) Kaisers. This is perhaps why HP has simply ignored the Fujitsu-Siemens results in its press releases for the faster Superdomes and simply declared that the Superdomes using its 875MHz PA-8700+ processors hold the world record for TPC-C OLTP performance.
In any event, that Superdome machine configured with the new PA-8700+ processors had 256GB of main memory and over 15TB of disk storage. The configured Superdome machine cost $9.2m and had another $1m in maintenance costs over three years. Oracle 9i licenses cost another $1.3m, client hardware and software more than $1m, bringing the cost of the whole TPC-C system under test to $12.6m.
However, after a modest Oracle discount and a monster discount for large configuration and support prepayment from HP, the cost of the machine was chopped essentially in half to $6.6m, yielding a price/performance of $15.64 per TPM. These are great prices for high-end machines, but be sure, if you are an HP customer buying a Superdome, to get these same generous discounts on future hardware acquisitions and upgrades. The iron is actually twice as expensive as these results suggest. These big discounts are not something that HP is only doing to gain new customers and game its benchmarks--this is common practice. No big Unix deal goes down without stupendous discounting.
HP is not the only vendor that has had trouble hitting its performance targets on its high-end Unix machines. IBM tested a pSeries 690 with 32 1.3GHz Power4 processors (that's 16 chips), 512 MB of L3 cache, 256GB of main memory, and 20TB of disk capacity. Sources familiar with IBM's expectations indicated that even after ratcheting back expectations for the Regatta-H machines prior to the October 2001 debut, the company had expected to hit about 420,000 TPM on the test. When IBM actually posted its results earlier this summer on the AIX 5L 5.2 operating system running Oracle 9I--a configuration that will not be technically available until late November--IBM could only deliver 403,255 TPM on the TPC-C test. That machine and its auxiliary machinery and software for running the tests and three years of maintenance cost $15.8mn at list price before discounts. IBM then factored in a 50% discount that, based on the rules of the TPC-C test, have to be single unit discounts available to all customers. The Regatta-H machine had a price/performance of $19.51 per TPM, incidentally.
© ComputerWire
Sponsored: Learn how to transform your data into a strategic asset for your business by using the cloud to accelerate innovation with NetApp