HP blades to skip Foster, go straight to Gallatin
And Prestonia for early 2003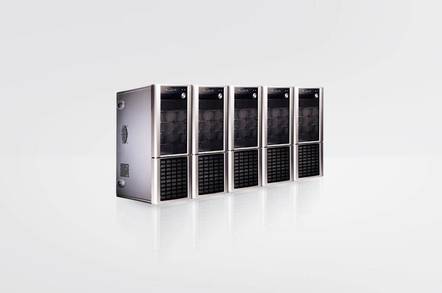 As expected, Hewlett Packard Co yesterday unveiled updated blades for its "QuickBlade" ProLiant BL line of blade servers,
writes Timothy Prickett-Morgan.
The QuickBlades were announced in January and are one of the earlier entries in this nascent but interesting and growing segment of the server business.
The first QuickBlade machines were called the ProLiant BL e-Class servers, and they supported uniprocessor blades that plugged into a 3U form factor chassis that holds up to 20 blades. With this design, up to 280 uniprocessor blades can be crammed into a standard 42U rack. The e-Class blades, which are still sold, are based on the 700MHz ultra low power Pentium III processors and the 440BX chipset from Intel Corp. Each blade has two 10/100 Ethernet links, a 30GB ATA disk drive, and two memory banks that support up to 1GB of SDRAM. The backplane in the QuickBlade box is an industry standard Ethernet network. The chassis are also equipped with redundant hot plug fans and power supplies. A single ProLiant BL e-Class blade server had a list price of $1,799 with 512MB of main memory, and a ten-pack of these blades sold $17,091.
Back in November 2001, when Compaq was showing off the QuickBlades at industry trade shows but was not yet shipping product in volume and was not yet merged into HP, Compaq said that it would shortly roll out dual-processor blades and more sophisticated and peppy I/O for the QuickBlades. Compaq said then that it was working on low-voltage blades for front-end infrastructure jobs like web serving and on back-end blades with multiple processors and lots of memory so they could support heavier applications but still participate in the blade architecture, including 32-bit Pentium 4 Xeon and 64-bit Itanium processors.
In mid-May, just after the Compaq acquisition was finished, Paul Miller, the former Compaq executive who is now in charge of all of HP's blade server initiatives, said that HP was on track to deliver dual-processor QuickBlades using Pentium III and Xeon processors in the middle of 2002, and said further that it would soon after that provide SAN connectivity for the QuickBlades so they can link into SAN fabrics. He said further that HP expected to have four-way blades available for the QuickBlade chassis by the end of 2002.
Obviously, the two-way blades for the QuickBlades are running a little bit late coming to market. But the market is a little slow to absorb new products right now, so there is not a huge hurry in some regards. In any event, the ProLiant BP p-Class machines now include a two-way model called the BL20p, which has one or two 1.4GHz Pentium III processors. This blade comes with 512MB of main memory (expandable to 4GB) and has enough room in its 6U chassis to hold 144GB of hot-swap disk capacity. Each p-Class machine can have eight blades per 6U chassis, or 16 processors, and up to 48 blades per 42U standard rack, or 96 processors. This is obviously about a third less dense packaging compared to the e-Class QuickBlades, but the processors are running twice as fast so the p-Class machines have only about 30% less aggregate processing power per rack.
This is a fair exchange for bigger memory and disk capacities, and makes these p-Class blades more suitable as application servers instead of infrastructure servers. A p-Class blade with a single 1.4GHz Pentium III processor, 512MB of memory, an 18GB disk drive, and integrated SCSI and LAN controllers sells for $2,858 at the Compaq store, but HP says that it is selling the p-Class blade for $2,539 and an empty QuickBlade chassis with licenses for eight instances of its Rapid Deployment Pack system management software for $2,999. A two-way blade with 2GB of main memory and 144GB of disk sells for over $10,000, including the chassis and deployment licenses. A fully loaded rack of these p-Class blades, with switches and other gear, would cost in excess of $400,000, not including operating system licenses.
Microsoft Windows 2000 Advanced Server, Red Hat Linux, and SuSe Linux are supported on the QuickBlades; Windows .NET Server will be supported when it becomes available. Microsoft's Datacenter Server is not supported on the QuickBlades, mainly because they do not yet support eight-way SMP blades.
Sources at HP are now saying that two-way blades for the QuickBlade line using the current "Prestonia" Pentium 4 Xeon DP processors will hit the streets in early 2003, and that it will skip the current "Foster" Pentium 4 Xeon MP processors for four-way blades and instead use the future "Gallatin" shrinks of the Foster chips. There is also some talk in the press of supporting PA-RISC blades in these machines, although that was certainly not the impression HP was trying to create when it said that it was keeping its PA-RISC-based "Powerbar" blade servers alive and distinct from the former Compaq's QuickBlades. What HP has said it would do, and what seems more likely, is take work that it has done to create blades based on the 64-bit Itanium family of processors for the Powerbars and use that work as the basis of future Itanium-based blades for the QuickBlades. timpm@computerwire.com
© Computerwire.com. All rights reserved.
Sponsored: Minds Mastering Machines - Call for papers now open