Network Physics tackles network chaos
Chaos Theory for sysadmins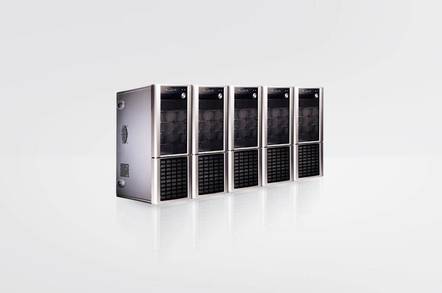 Network Physics Inc, a company that launched last year with the intent of bringing chaos theory to enterprise network management, sees itself in the internet route control market by the end of the year, and yesterday released the second in a trio of product upgrades that will take it there.
Having released its packet sniffer and basic management console earlier this year, the NP-1000 IP Traffic Manager, the company this week added a Problem Management Dashboard component to version 1.1 of the NP-1000, which gives customers more functionality for analyzing data generated by network performance measurement.
The dashboard software can automatically generate baselines for performance, eliminating false positives based on expected behaviors of networked devices. The system sniffs IP traffic at up to 400Mbps (up from 250Mbps in V1.0), and infers from it how cluttered pipes are, and what kind of performance servers and clients are receiving, presenting the data in graph form.
According to VP of marketing Bob Quillan, the plan is to introduce active trouble-shooting features before the end of the year. The system will be able to dynamically reconfigure BGP routing tables to route traffic onto the best-performing or cheapest ISP link, and will be able to "pace" traffic to reduce packet loss.
The first feature of this forthcoming upgrading - link control - will place Network Physics in competition with the likes of netVmg Inc, RouteScience Technologies Inc and Proficient Networks Inc, which have all recently brought products to market that route traffic on multihomed networks according to performance and cost.
The second feature will be more of a unique selling point for the company, said Quillan. The system will be able to queue, or decelerate, packets when congestion is detected. By slightly increasing the latency the system will be able to reduce packet loss and retransmission, a trade-off that ultimately increases performance.
The NP-1000 V1.1 is now shipping, with a starting price of $25,000, going up to $90,000 based on bandwidth. The five existing customers of V1.0, released two months ago, will get a free upgrade.
© ComputerWire
Sponsored: Learn how to transform your data into a strategic asset for your business by using the cloud to accelerate innovation with NetApp