IBM talks Big Biz with Palm
Enterprise connectivity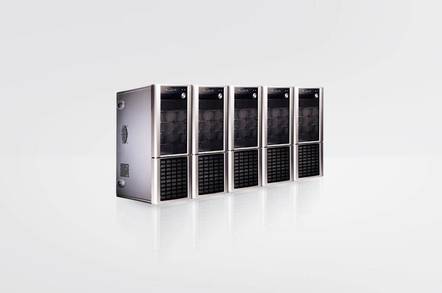 IBM and Palm are cosying up, with Big Blue agreeing to again resell the PDA maker's kit and, more importantly, the pair agreeing to develop Palm devices which can access enterprise applications and information using IBM's WebSphere.
WebSphere Everyplace Access, will be used to enable the device and server to communicate. Both parties are digging in for the long term, by the look of it, with a product and service roadmap spanning a few years.
Using this combination of technologies a company could, potentially, give a mobile worker access to the complete range of enterprise applications while on the move. That's enormous capability. And, inevitably, something that we won't benefit from for some time — given the inherent security and size issues associated with a Palm device.
IBM and Palm will start delivering a few jointly developed offer by the end of this year. First up will be the availability of Lotus Domino, to give further depth of field, followed closely by an instant messaging application which will enable Palm users to IM other Palm or desktop users. It's a nice addition — presumably hoping to tap into the text messaging world eventually. Tivoli Network manager will form part of the bundle as will IBM's mini-me DB2, DB2 Everyplace.
These are first steps and sound much like something of a technology try-out. Throw some in and see how many bite. But bite they will.
IBM has the centralised architecture within Websphere to manage it, Palm has the leading handheld device. Nurture that for a few years, roll the principle across more devices in a few years time and suddenly we're all super-connected.
For this is another example of IBM's Pervasive computing model — based entirely around WebSpehere and MQSeries. It wants connected devices everywhere, ideally with a bit of IBM technology or an IBM service helping it on its way.
It may help dig Palm out of its self-made hole too. Deals like this, particularly when you consider the fact that IBM will start reselling Palms again into its own enormous accounts, can do wonders to establish a device as a corporate must-have.
The question is how useful all of that turns out to be. It could be too expensive, too insecure, you may take up too much of the Palm footprint when you access business applications. It could be a pain — or maybe Microsoft will trump it.
Sponsored: Learn how to transform your data into a strategic asset for your business by using the cloud to accelerate innovation with NetApp