IBM sends Shark into feeding frenzy
Storage price wars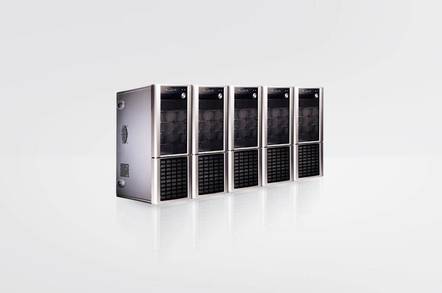 IBM yesterday unveiled the latest iteration of its Enterprise Storage System, commonly known as Shark. The product has been comprehensively upgraded since the last release from the firm. But this isn't the time to judge technical competence between the vendors, this year it's all about price.
And IBM is coming out fighting. Its Enterprise Storage Server Model 800, the ace in the Shark pack, has had a complete overhaul. Processing power has been tweaked, the cache is now up to 64Gb, Raid 10 is in there as are 2Gb Fibre Channel/FICON host adapters. It'll scale up to 27.9Tb - and it's got a turbo option.
That's all very nice, very timely stuff. But is it enough? Possibly. The latest upgrade will, arguably, give IBM a nose hair's breadth of technological advantage over the competition. But that's too close to call, given the array of configurations you could utilise. The fact is all enterprise storage boxes in the market right now are pretty similar.
IBM's Shark product first came to market a few years ago after, what one can only describe as, a long and laboured birth. When it finally got there the market was in turmoil, plummeting and as rough as we've seen, which didn't help.
Still, IBM claimed some market share. In 2001 it was estimated that IBM had as much as 14.2% of the market in 2001. That put it in a clear third place in the market, well behind EMC's 30% share. Part of the problem that IBM has suffered is catching up with its rivals, technically and in terms of market share.
Nowadays things have changed. IBM's Shark, EMC's Symmetrix, HDS's Lightning - they are all pretty well balanced technically with not a lot between them. It's a very unusual situation too for the storage market, which is more used to glaring holes in technical ability between the vendors. And it changes the game considerably.
This year you can expect to see a raft of upgrades, new systems and re-badged efforts from vendors as they each try to squeeze a nose ahead of the competition. As far as buyers are concerned though, this could be a great opportunity. With all of the vendors touting nigh-on replica devices, the fight for market share will probably be in the pricing strategies and purchasing arrangements - and that could prove fruitful for the IT department.
Sponsored: Learn how to transform your data into a strategic asset for your business by using the cloud to accelerate innovation with NetApp