IBM sell first Regatta-H iSeries monster server
Customer wants four - didn't TJ Watson say something about that once?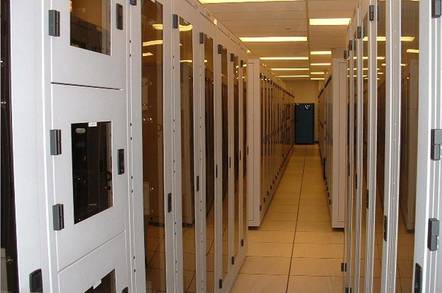 It might have the highest price tag of any OS/400 server yet built, but IBM Corp has already sold its first iSeries Model 890 "Regatta-H" server. The first iSeries Model 890 is going to Apria Healthcare , a home healthcare equipment and services provider based in the Los Angeles suburb of Lake Forest. One of the driving factors behind Apria's acquisition of the monster iSeries machine is that it wants to consolidate its data centers to save money.
Apria is a $1.1 billion company with close to 9,700 employees. The company is public, and its shares trade on the New York Stock Exchange. Apria has three product lines. One line is involved in selling oxygen systems, home ventilators, sleep apnea equipment, and nebulizers (a sophisticated humidifier); another sells medical equipment for administering intravenous drugs, nutrients, and pain killers (this is known as home infusion therapy); and the other sells home medical equipment such as wheelchairs and hospital beds. Apria has over 1 million patients using its products and a direct sales force of about 460 people, who work from over 400 branch offices in the lower 48 states. These sales people coordinate with hospitals and doctors in order to supply patients with the equipment they need to receive treatment at home, rather than staying in a hospital.
Sources at the company say that server consolidation is not a new thing at Apria, but rather something it has been pursuing for years. In the past few years, Apria has consolidated 175 data centers, using AS/400 and iSeries servers, down to 40 data centers. Eventually, the company wants to have only four iSeries servers. Apria runs a mix of enterprise applications from J.D. Edwards and SAP. Using fewer servers means that the a big portion of the business can be knocked out if a machine goes offline, which is why Apria has set up a hot backup site that mirrors corporate data stored on central machines. Apria has chosen Vision Solutions as its high availability clustering partner for its mirrored machines. Apria is one of Vision Solutions' main customers for beta-testing future editions of its Vision Suite software, the result of an alliance the two companies formed in August 2001. Such mirrored machines are mandated by the Health Insurance Portability and Accountability Act of 1996, by the way. Mirrored machines are not just a good idea in the healthcare industry; they are the law. Exactly what configuration of iSeries Model 890 server Apria acquired - or if it bought more than one - is unclear.
IBM has been close-lipped about the prospects of sales of the Model 890 servers, but as I have said before, IBM can make them in a few weeks' time and I think there is potential - provided customers have the budget slack - for Big Blue to sell a few hundred of these big iSeries boxes this year. This will add hundreds of millions of dollars to iSeries sales in 2002. The Model 890 servers and OS/400 V5R2 officially start shipping on August 30. Copyright © Midrange
Server, Inc. All Rights Reserved.
© Computerwire.com. All rights reserved.
Sponsored: Minds Mastering Machines - Call for papers now open