Not so gay blades
Segments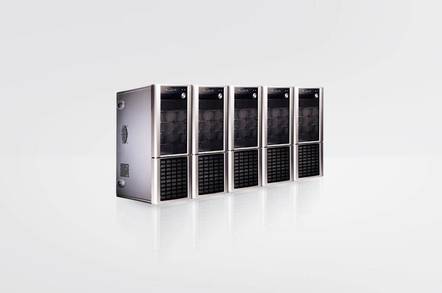 Server Briefing Blades may not have become the biggest sector of the server market - contrary to some of the more bullish forecasts made last year - but these compact server-on-a-card machines are nevertheless likely to be one of the more active areas of the business over the coming years.
It's not hard to see why. Blades allow cost-conscious corporates to expand the processing capacity of their data centres more efficiently and more cheaply than adding further standard rack-mount units. Three units worth of rack space might hold an enclosure containing six dual-processor blades, each with up to 2GB of memory, or a trio of two-CPU 1U rack systems.
And with low-power processors on board, the blades should tax a centre's power supply and air conditioning rather less than the rack units will, a factor leapt upon by blade proponents in the light of past California energy crises.
Of course, the overall decline in server sales over the past two years has hindered the growth of blade sales - hitting blade pioneers like RLX Technologies hard - but if the latest predictions aren't as enthusiastic as they were early last year, they still anticipate significant growth.
So while market researcher IDC proclaimed in 2001 that some two million blades would be sold in 2005, all together worth $102 billion, it now puts the figure at a more modest $3.7 billion for 2006. Then, it believes, blades will account for around 20 per cent of all servers sold. Gartner Dataquest reckons a million blades will be sold in 2006, up from 85,000-odd this year.
Both companies highlight blades as big sellers, driven by low unit costs, size advantages and easy installation. That said, there are issues hindering the sector's growth. Blades remain less well suited to enterprise applications, with fewer management software options. And then there's compatibility: different vendors' blades remain incompatible. HP launched its OpenBlade initiative earlier this year, to define a standard blade interconnect based on the CompactPCI spec. with some SAN and NAS functionality bolted on, but there's little information to suggest the company's rivals are following its example.
Still, these are issues that will be resolved over time. A greater focus on enterprise-level kit will come from the like of IBM and Sun, due to ship blade systems in Q3 and Q4, respectively. Blade-based clusters running Linux are already doing some serious number crunching. Dell will ship more mass-market blade units in Q3, too.
All this activity will expand the 32-bit Intel side of the server market, though it's too early to write off other vendors with chips well suited to blades, including Transmeta (joint supplier, with Intel, of RLX), AMD and Motorola. The latter will be hindered by the lack of x86 compatibility, but its connections with the telecoms business, a customer with a keen interest in blade technology, may yet establish it as a specialist player.
Intel, however, is pushing the hardest here. It sees blades as a way of maintaining Mobile Pentium III sales, but it will undoubtedly offer its upcoming low-power Banias processor in a blade-friendly configuration. Blades' low-cost, standards-based commodity marketing suits Intel's own 'macroprocessing' sales message - buy more, cheaper 'standard' CPUs - nicely.
Certainly, Intel hopes blades can take more of the market from bigger boxes, but it's too soon to say by how much. For now blades seem to tap more into a trend towards a greater degree of segmentation in the server market than as an evolutionary replacement for rack units or big iron.
As Matthew Keep, Sun's Server Product Manager for UK and Ireland, puts it: "One of our customers is a major City banking institution. One part of the organisation is running big iron servers, another is building clusters. Both divisions are using these very different set-ups to run essentially the same database applications." ®