World+dog snaps at HP server biz
HP returns snarls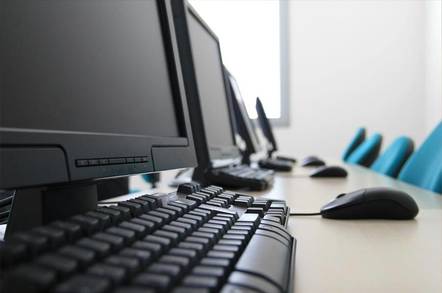 Server Briefing The new HP, now a month or so on from its acquisition of Compaq, certainly started out with a commanding position in the server arena. And, short of customers rejecting the merged operation en masse, it's hard to see HP losing its third of the market - a market share well above its chief rivals, IBM, Sun and Dell, and matched only by everyone else put together - at least in the short term.
Beyond that, it's impossible to say how successful HP will be. The market stats aren't in yet, and for all the spin applied by the company itself and by its rivals, there's little to indicate any real trend toward or from the company.
So while outgoing Sun President and COO Ed Zander recently claimed Sun had been approached by a number of HP and Compaq customers and slammed HP for its lack of "competitiveness" post-merger, HP itself quickly announced a 100,000-unit deal with Reuters to replace Sun kit.
Of course, that deal would have well in the works at Compaq before the merger was finalised on 7 May.
Zander was probably right when he said HP and Compaq customers are "ready to look at alternatives", and while he can try and score a few PR points by claiming that's down to a "lack of focus" on the part of the new HP, these new sales enquiries are as likely to be driven by economy-induced austerity measures and the opportunity any industry shake-up offers for a enterprise to re-appraise its IT.
Certainly HP is confident there will be no shift away from its new product line, beefed up with what it believes are the best from both companies' old offerings. So, the IA-32 (Pentium III Xeon and Xeon) line-up will be led by Compaq's market-leading ProLiant range, while at the high-end, the focus will be on HP's PA-Risc servers and HP-UX operating system, the latter eventually incorporating elements of Compaq's Tru64 Unix, particularly its clustering and file system technologies. Compaq's MIPS-based 'Himalaya' NonStop fault-tolerant machines will continue under the HP brand.
HP's rationale for its new product line-up is sound, but questions remain, primarily surrounding the promised transition to Intel's 64-bit Itanium. HP remains committed to the plan, but we're to expect at least two more PA-Risc and Alpha chips first. Equally, there will be two more generations of MIPS-based Himalayas before that line too transitions to Itanium.
The company's guidance highlights the third generation of Itanium, codenamed Madison, as the switch-over product. But wasn't HP saying much the same about Itanium II this time last year? Certainly, HP's talk of Itanium III suggests Itanium II, due to ship next month, isn't going to be anything more than the test-system chip its predecessor was - or its customers aren't happy about having such a transition forced upon them.
Certainly HP's discussion of its future PA-Risc and Alpha-based products show a keenness to support existing customers, though it's telling that HP will still offer both platforms to "new business opportunities" despite "the expected customer adoption of the Itanium servers".
Much depends not only on Intel's ability to deliver a suitably powerful processor but on how well it can encourage software developers to produce applications to run on the platform - both factors beyond HP's control. Hence ongoing PA-Risc development. But with the axe hanging over that platform - Alpha too - and uncertainty over Itanium, there's plenty of opportunity for IBM and Sun to bite chunks out of HP's 64-bit marketshare - while Dell continues to eat into its IA-32 business.
Sun FUD aside, HP looks set to retain its massive lead in the short-term, but long-term the picture isn't so clear. ®
Sponsored: Learn how to transform your data into a strategic asset for your business by using the cloud to accelerate innovation with NetApp