IBM beats up on Dell servers
Price and Performance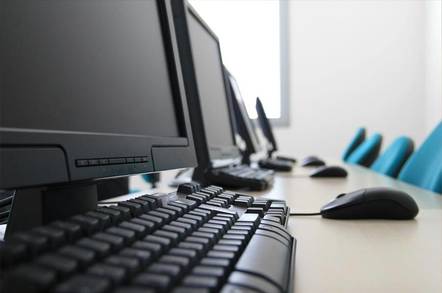 IBM today announces a new dualie Intel Xeon server and it's positioning it head-to-head against Dell.
The x235 two way Xeon DP server targets what it says is "the sweet spot of Dell's server lineup", coming in at up to $1,000 cheaper – 20 per cent less - than a similarly specced Dell Poweredge 4600. Oh and it beats up on the Dell model when it comes to benchmarks – or on Microsoft Exchange 2000 Messaging throughput, at any rate. This is 11 per cent faster on the x235 than the PE 4600, IBM helpfully points out.
As to price, IBM compares a Dell PE 4600 configured with one 2.2GHz Xeon processor 512MB DDR, HS redundant Power, and one 18GB 10K hard drive, with the same spec X235. The Dell comes in at $4746 (as of June 10), while the IMB comes in at $3724. Of course, IBM is not shipping the X235 until late June, so Dell has some time to adjust prices.
"The x235 beats Dell's system on price, it beats them on performance and delivers significant value derived from cutting-edge technology," said Jim Gargan, vice president, IBM eServer xSeries.
It's interesting that IBM is gunning for Dell, rather than HP, the market leader in Intel server sales. It's even more interesting that IBM is choosing to fight on price (OK price/performance), always a risky option with Dell.
Perhaps Dell, No.2, is picking away at server customers which IBM would traditionally think of as its own. IBM is the market leader for server sales overall by value, but not by volume. That's where the 2-way Intel server segment sits – it's worth an estimated $10bn in annual sales, according to IDC, so it's worth fighting for.
IBM's X235 server is housed in a tower unit and is targeted at "price-conscious" medium-sized businesses. The company names traditional file and print and messaging as two appropriate applications for the box.
The spec includes integrated dual Ultra320SCSI controller, complete with a PCI interface incorporated onto the chip, enabling data transfer of up to 320 MB a second. Two Active PCI-X slots are supplied.
IBM today also announced the X255, a 4-way box based on the new Xeon MP processor. This supports up to 800GB of internal storage, and support for Ultra 320 and U320 hard drives.
It's also the first xSeries server, incorporating Hot Spare Memory Protection, a self-managing feature designed to provide automatic protection from memory failure. The X255 also does well with the MS Exchange throughput benchmark and it also launches late June. There's no price yet. ®
Sponsored: Minds Mastering Machines - Call for papers now open