EMC to move downmarket, hire Dell as manufacturer
Handshake agreement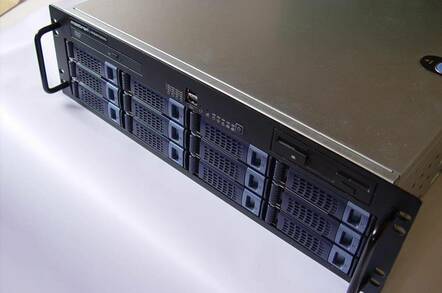 Facing increasingly stiff competition in its traditional high-end stronghold, EMC is planning a major expansion into the low-end of the storage market, where it predicts the biggest revenue opportunities will occur. The move is being made hand-in-hand with Dell Computer Corp, which is set to make a low-end variant of EMC's mid-range Clariion array.
EMC yesterday said it has reached a "handshake" agreement under which Dell will manufacture an as-yet unannounced low-end version of the Clariion. EMC and Dell have also agreed to merge their supply chains, which means they will combine forces when buying components from third parties.
The deal with Dell is only part of a larger plan that will see ENC continue its high-end business, but move downstream into both software and hardware. On the hardware front the company predicted that the market will stratify into three layers - low, mid-range, and high-end. "We're driving products into all of these segments," EMC's executive vice president David Donatelli said during the company's annual analyst briefing in New York yesterday. On the software front, Erez Ofer, executive vice president of open software operations said EMC will develop software for "all sizes" of customer.
The tentative manufacturing deal with Dell has been rumored before (ComputerGram International, November 26 2001), but was formally announced by EMC yesterday. If signed, it would involve the manufacture of a version of the Clariion which would be the same size or slightly smaller than current Clariions, but would be significantly less expensive. Although EMC's CEO Joe Tucci stressed that the deal has yet to be signed, and warned that "the devil's in the detail," he appeared confident that the deal will be cemented.
Tucci stressed that EMC will continue to make high-end devices - "the biggest, baddest hardware on the planet," which will continue to be sold by EMC's salesforce, which in the past has sometimes been described in similar terms. "As long as I'm heading this company, we'll have a large direct sales force. That's very important going forward," he said.
Dell may not be the only manufacturer under sub-contract to EMC. Referring to the Centera, the large-scale storage device which EMC launched last month and which uses low-cost ATA drives to store fixed content, Tucci said: "Whether we build it, or somebody else does, the future will tell."
EMC said it is expanding down-market because it has identified the low-end of the market as presenting the greatest growth opportunity. That view was certainly endorsed by Roger Cox, analyst at Gartner Dataquest. "The future is going to come from the NT market. There's a lot of headroom for growth there," he said. In the mainframe market, around 95% of storage is already external, leaving only room for replacement sales and organic growth, Cox said. Similarly, in the Unix market around 75% of storage is already external.
"In my view only around a third of NT is external storage. So there's a lot of room for external storage to replace internal storage," Cox said.
The move also however reflects the increasingly fierce competition at the high-end of the market.
In that sector EMC last year lost the huge technical lead it once held over its rivals Hitachi Data Systems and IBM. Despite lowering its prices dramatically, it lost a significant amount of market share in 2001. The competition can only increase as Hewlett Packard develops and promotes what was formerly Compaq's recently launched high-end Enterprise Virtual Array, and Sun remedies the weaknesses in its T3 arrays.
Last year EMC stressed its intention to boost its software sales in order to compensate for the plunging margins on its hardware sales. The expansion into the low-end market is surprising therefore because it is a move into yet more low margin business. Tucci said yesterday: "The current target is for those products to be manufactured by Dell, and they'll sell a hell of a lot of them. There'll be less revenue growth, but what we'll get will be pure profit." Selling through the channel does involve lower margins, but it also involves lower SG and A expenditure, he added. In October last year, EMC and Dell announced the resumption of the deal under which Dell has since been reselling the Clariion. Dell said then that it expected to hit a run-rate of $1bn per year Clariion sales by the end of the year.
Although Dell will make the new low-end Clariion, and the device will be badged as Dell EMC, the deal being negotiated by the two companies will allow both to resell the full range of EMC and Dell EMC hardware, including EMC's top-end Symmetrix device.
Sponsored: Learn how to transform your data into a strategic asset for your business by using the cloud to accelerate innovation with NetApp