BT sets great store in storage
Show us the bandwidth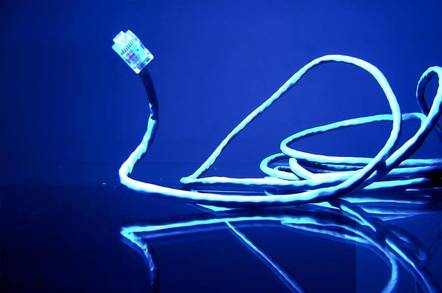 BT fleshed out its IP strategy just a smidgen today with a networked storage alliance with Dell and EMC, and plans to boost network capacity.
The monster telco has set itself the goal of a £1.5 billion growth in revenue by 2004/2005, of which IP Services are expected to account for £200 million.
Key to this ambition is BT Data Storage, which will offer customers onsite networked-based and fully outsourced storage services, based on EMC/Dell Clariion kit.
But will customers outsource their mission-critical data to BT? And is there the bandwidth capacity to make back up a viable option to secure BT data centres (a key part of the BT Data Storage portfolio)? With such capacity, BT Ignite would plough the same furrow as storage ASPs, much talked about and little spotted.
According to Andy Green, chief executive of BT Ignite, outsourcing storage is no different from outsourcing network responsibilities. BT's pitch is that it can pull together and manage storage requirement more cheaply than its customers can.
Green recognised the need for high bandwidth connections to make the data transfer and storage services BT is offering a money spinner.
Along with the networking storage deal, BT is touting a new portfolio of optical services, called Wavestream, based on Dense Wave Division Multiplexing (DWDM) technology.
The portfolio includes point to point (Wavestream Connect) and a managed network service for connecting up to six locations (called Wavestream Metro Ring). By the end of the year, BT plans to launch Wavestream Connect National, which will make it easier to connect data centres in distant locations across the UK.
The Wavestream portfolio is expected to deliver a relatively modest £57 million a year of new revenue to BT Group by the end of 2004/5, which makes us wonder how extensive take up is likely to be.
More promising seemed to be BT's integration of its IP VPN services throughout Europe in a "seamless MPLS" implementation. MPLS labels traffic flows and makes it easier to manage the flow of traffic over a complex network. BT said it had 600 MPLS customers in the UK.
BT Ignite MPLS makes it easier for companies to move from traditional to IP networks. The service supports differential Classes of Service, allowing companies to prioritise critical applications over IP networks and manage them end-to-end.
Green talked up BT's ability to deploy fibre into enterprise networks and offer customer's connection at between 64kbps and 1Gbps but he backtrack when asked if this meant the death of its ATM and Frame Relay services.
"It's too early to talk about end of life for Frame Relay and ATM," said Green, who added it was still signing new customers for these services.
Some applications don't work over IP, he added.
Of course you need a migration strategy but this reminded us of BT's desire to protect legacy service revenues which s seen by critics as one of the main reasons for the slow rollout of broadband to consumers in the UK.
Unless BT accelerates its rollout of high-speed broadband it risk failing to deliver on its storage outsourcing ambitions. Fleshing out its IP services strategy will mean cannibalising legacy services, but that's what the restructuring of the company was meant to allow.
The situation BT is in reminds us of Frank's predicament in Hellraiser.
After a decadent lifestyle/dotcom fuelled expansion, Frank/BT get flayed by Cenobites/the market and the only way Frank/BT can rebuild itself is through murder-cannibalism/cannibalising its legacy services.
It kinda works. ®
Related Stories
BT Ignite culls 2,200 jobs
Pure ASPs face rough ride - BT
BT releases its demerger plans
BT to completely write-off Concert?
Dell shrugs off HP threat
Compaq wears the pants in HP's brave new storage world
HDS trebles bandwidth on storage kit
Cisco pushes for fault resilient IP networks
Next-gen ISP peering network launches
Sponsored: Learn how to transform your data into a strategic asset for your business by using the cloud to accelerate innovation with NetApp