HDS trebles bandwidth on storage kit
Lightening strikes towards EMC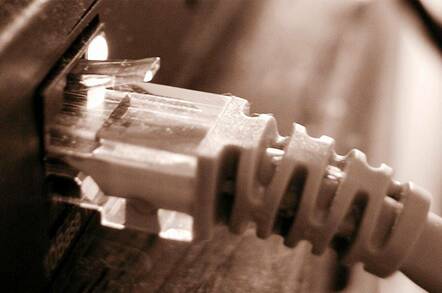 Hitachi Data Systems (HDS) has set itself the goal of becoming the number one provider in the storage market with a major revamp of its enterprise storage line.
Key to this ambition is the unveiling today of its Lightening 9900 V, the second generation of storage systems based on its Hi-Star switched architecture (which is technically superior to bus architectures).
The 9900 V series boasts triple the bandwidth with twice the cache of previous 9900 series models, allowing customers to consolidate storage resources and reduce total cost of ownership, HDS says. The idea is to reduce complexity and simplify management.
Two model are available in the series: the Lightening 9970 V, which scales up to 9TB and the high-end 9980 V, which can handle up to 75TB of raw capacity. Each support 1 and 2Gbps Fibre Channel, ESCON and FICON, with support for iSCSI promised by the start of next year.
The hardware is the cornerstone of HDS' TrueNorth strategy for open information management, through which it hopes to overtake EMC as the largest supplier of storage systems.
At a launch event at the Dali museum on London's South Bank today, HDS execs talked confidently on their support for industry standards (SOAP, XML and Common Information Model), industry partnerships (HP and Sun OEM HDS kit) and the technical performance of their box.
However they shuffled uncomfortably on the Daliesque Red Lips sofa when quizzed about virtualisation, which has become a much-hyped buzz word in the storage industry.
The 9900 V series comes with a feature called virtualisation assist layer which offers the ability to mix mixed Windows, Unix and other heterogeneous servers on a single port. But this falls short of true virtualisation, the pooling of storage from multiple networked devices into a single storage resource that is managed from a central console.
Robert Bignell, senior director of enterprise products and solutions, said to common standards on the network are needed before the industry can move forward to that level of virtualisation.
But what of the $1 billion war chest HDS said last year it had to expand its virtualisation capabilities or the deal with IBM to jointly develop storage virtualisation (announced last month)?
Bignell said that fruits of the IBM collaboration were yet to come through in its products and fended off questions about its war chest, which remains (it would seem) locked up somewhere.
Although HDS left its plans for virtualisation vague (like everyone else in the industry) it was able to announce significant improvements in its HiCommand storage management software.
HiCommand Management Framework adds to the device management features of its earlier software to perform functions like automating common storage tasks, freeing up more time for administrators, and bandwidth allocation. HiCommand Management Framework modules, which work on Solaris and Windows platforms, will be announced throughout 2002 and 2003. ®
Related stories
Sircampaq: The Winners and Losers
Storage benchmarkers push the envelope
Storage Tank on its way, IBM says
IBM hands over HDD biz to Hitachi
The great storage giveaway
HDS plays down API swaps with IBM or EMC
HP extends 'pay as you go' to storage
Sponsored: Learn how to transform your data into a strategic asset for your business by using the cloud to accelerate innovation with NetApp