Storage benchmarkers push the envelope
Squeeeeeze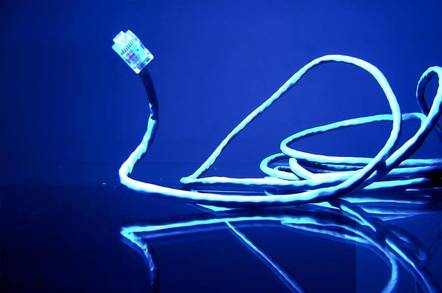 The preliminary results of the storage industry's first-ever benchmark tests show that suppliers are treating them just like any other benchmark - a contest in which vendors play the rules to the limit in order to squeeze out maximum performance, resulting in a standard benchmark test being completed on a very non-standard spread of hardware configurations,
Tim Stammers writes
.
The Storage Performance Council and IBM Corp, Sun Microsystems Inc and LSI Logic Storage Systems issued preliminary results yesterday based on a range of very different hardware configurations. The more exotic and apparently less representative the configuration, the better the claimed benchmark performance.
LSI tested its mid-range E4600 array loaded with just 400GB of usable storage capacity, spread across a forest of 112 disk drives. Sun Microsystems tested its StorEdge 9910, which is a re-badged Hitachi Lightning storage array, with even less capacity - just 320GB, across 48 disks, the maximum number of disks which can be fitted to the 9910.
The Lightning competes at the top of the storage array market where average configuration capacities are now around 2TB - or 2,000GB. Even allowing for RAID 1 mirroring, Sun's test configuration represented just 32% utilization of capacity.
Only IBM managed an approximately representative configuration, testing an ESS Shark F20 with 1,260GB of data across 64 disks - the maximum for the F20. Even that box however was slightly unusual, in that all of the 64 disks were IBM's latest high-performance 15,000 rpm drives. "We wanted to show off our 15K disks. At least we used our larger 36GB disk, and not our 18GB disk," an IBM spokesperson said.
The SPC was formed last year to devise storage benchmarks, and includes as members IBM, Sun, Compaq, Veritas, Hewlett Packard and LSI. IBM said yesterday that when the Council devised the SPC-1 benchmark, it did not set minimum limits on the amount of data to be stored, because it expected that suppliers would want to optimize both measures.
"Capacity is a primary metric. The feeling was that people would want to expose both performance and capacity," IBM said.
By keeping low the amount of data stored on its test array, Sun boosted its cache to disk ratio, and hence the latency time and throughput measured in the benchmark. A spokeswoman for the company declined to comment on the test configuration.
LSI was very open about why it chose to load its benchmark machine with so many disks. "Everybody tries to make their results the best that they can get. We wanted to support our long-standing claim that we have the highest performance arrays in the industry," said Steve Gardner, LSI's manager of product marketing.
How many customers buy an LSI E4600 with the same number of disks as were used in the test, or load it with just 400GB of data? "I don't know the answer to that. We put in the minimum number of spindles we needed to get the performance," Gardner said.
Despite being so candid about LSI's approach to the test, Gardner defended the SPC, which he said had tried to rule out "benchmark specials," or the testing of unrepresentative systems. "These benchmark numbers are valid. OK, customers need to be knowledgeable to use them, and they'll need to take time to examine them and compare them to their own application workloads. But until now there have been no figures at all," he said.
The results published yesterday showed LSI well ahead of Sun or IBM in terms of both throughput, and low-load latency. For throughput LSI scored 15,708 SPC-1 IOPS, compared to Sun's 8,404, and IBM's 8,009. LSI's SPC latency measure was just 1.64, compared to Sun's 2.07, and IBM's 2.99. Prices were not disclosed, but the SPC said that "full disclosure reports" will be issued very shortly.
© ComputerWire. All rights reserved.
Sponsored: Minds Mastering Machines - Call for papers now open