Sun to debut high-end servers next Tuesday, too
Stealing IBM's thunder?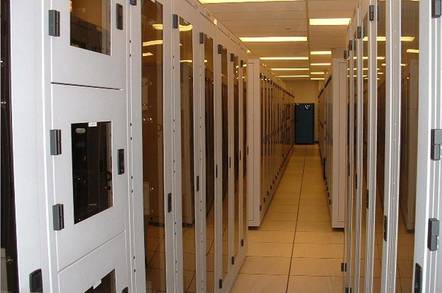 Sun Microsystems Inc says that it will "unleash" another high-end server in its Sun Fire family of UltraSparc-III servers next Tuesday,
Timothy Prickett Morgan writes
.
Exactly what Sun is up to is unclear, but it is probably not a coincidence that IBM Corp is set to make its pSeries 670 debut on April 9, the same day that Sun is expected to make its high-end Sun Fire server announcement. Somebody is trying to steal somebody else's thunder.
The invitation that Sun sent out yesterday to press and analysts said the company would "'unleash' a strategic addition to its 'pride' of high-end" machines. Wink, wink, that probably means Sun's announcement has something to do with the existing midrange "Serengeti" Sun Fire 3800, 4800, and 6800 servers, the existing 72-way StarCat enterprise servers, and/or the impending "WildCat" system interconnect for creating reasonably tightly coupled clusters that bring larger numbers of "Cheetah" UltraSparc-III processors to bear on jobs. Sun has been expected to deliver WildCat clusters that link together SMP servers such as the Sun Fire 6800s into clusters that might be useful for commercial applications but which are probably aimed at high-performance computing (HPC) customers like research institutions, government agencies, and the like.
Whatever Sun is up to on April 9, the rumor mill has been quiet and none of the usual suspects seems to know what Sun is doing.
When the StarCats were announced in September 2001, Clark Masters, vice president of Enterprise Systems Products at Sun and one of the lead designers of the Cray 6400 "Starfire" system (now known as the Sun Starfire Enterprise 10000), that was the predecessor to the StarCat, said the StarCats may have borrowed NUMA, COMA, and other processor clustering technologies. But the resulting StarCat server was what Sun considered an SMP+ server, mainly because it offers latencies in the same range as regular SMP servers in use today.
He said that the StarCat used a souped-up version of the Fireplane interconnect used in the Starfire servers and that it was not comprised of midrange servers clustered using the WildCat interconnect. There was plenty of speculation that the Remote Shared Memory API that lies at the heart of the WildCat interconnect, which is supported in Solaris 8 right now, was somehow lurking in the StarCat design.
In being adamant about StarCat being a true 72-way SMP implementation, Sun had to confess that it was indeed working on clusters of Sun Fire servers using the WildFire interconnect to go beyond the 106-way SMP of the StarCat - that top-end configuration is with 72 processors in the SMP cluster plus an additional 17 dual-processor engines that the StarCat can hold.
With the Wildcat interconnect, the bandwidth between servers linked to each other in clusters is 9.6GB/sec, the same as the bandwidth between processors and memory within the boards in a regular SMP-based Sun Fire server. According to Sun, the Remote Shared Memory API allows applications to talk directly to the Wildfire interconnect, bypassing the Solaris operating system on both nodes and thereby reducing latencies.
The point is, on certain workloads - and exactly what kinds are unclear - Wildfire will apparently present what looks like a single system image to applications. The University of Stuttgart in Germany has a such a Wildcat cluster installed, comprised of four 24-way Sun Fire 6800 servers and possibly running an early release of Solaris 9.
Of course, Sun may not actually announce Wildcat clustering next week.
The company could follow its competition in the Unix server space and announce a chip off the StarCat block, much as IBM will do on the same day with its pSeries 670, which is effectively an eighth, a quarter, and a half of a 32-way pSeries 690 server with some tweaks and limits. Hewlett Packard Co's 16-way rp8400 HP-UX server is to a certain degree also a quarter of a 64-way Superdome server, although HP has made some changes to the chipset to make it less expensive than the Superdome.
Such a baby StarCat machine, which I nicknamed "StarKitty" when I first wrote this story to be funny, is apparently on the way, at least according to a story that ran in Reuters just as this piece was going to press.
Anyone looking at the Sun Fire line can see that there is a gaping hole between the 24-way Sun Fire 6800 and the 72-way Sun Fire 15000. The StarKitty is necessary for marketing reasons to fill in that substantial gap. While customers can buy small configurations of the StarCats, they are very pricey indeed compared to the Sun Fire 6800s.
A 24-way StarCat, which Sun calls a small configuration, costs $1.8m. A 24-way Sun Fire 6800 costs in the neighborhood of $1m. A 36-way StarKitty with no auxiliary processor boards that is nonetheless upgradeable to the StarCats could be just the thing that Sun needs to keep pace with the product line changes of its competition.
© ComputerWire.com. All rights reserved.
Sponsored: Learn how to transform your data into a strategic asset for your business by using the cloud to accelerate innovation with NetApp