Oracle double-dipping drives Reg readers to penury, open source
Multi-perplexing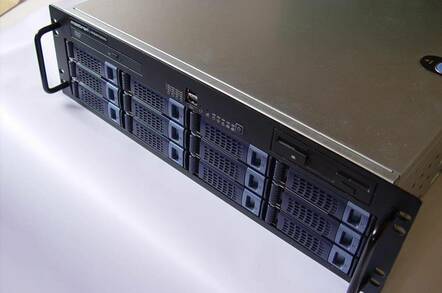 Register readers have confirmed Meta Group's reports of Oracle demanding steep multiplexing license fees from users.
Patrick Wheeler is an IS manager for a US-based interactive TV company which aggregates data from millions of clients into several middle tier servers. These servers feed an Oracle database, but only after at least three different massaging and aggregation processes.
"They consider it to be a multiplexer all the way the way to the client. But each and everyone of these set-top boxes we work with is not talking to Oracle directly," he told us. "It's one-way traffic. This is not a two-way communication, like, for example a web user hitting a database, by any stretch of the imagination."
In the end, Wheeler negotiated a per-processor license much lower than the figure suggested by Oracle, and a tiny fraction of what a multiplexing license would have cost.
Wheeler is looking at open source alternatives to Oracle. He acknowledges that MySQL and Postgres are not as robust or feature-rich as Oracle, that there are added costs in migration, but he says "there's no upfront fee". Per-processor license also makes scaling expensive, he told us.
Several of you have experienced the same demands:-
"I am an Oracle DBA and we are having this same issue with Oracle licensing," writes one.
"Even though we use a separate system to perform the OLTP side of things, basically the following scenario fits what they are telling us and attempting to charge us for.
"Named Users 1 perform transactions on a Oracle OLTP Database Server which batch feeds its data into an Oracle Warehouse Database Server which is used for reporting purposes by Named Users 2. Named Users 2 do not directly connect to the OLTP Database Server and Named Users 1 do not directly connect to the Oracle Warehouse Server.
"However, according to Oracle's new licensing scheme, all licensed named users of the OLTP Server must also now be licensed as named users of the Warehouse Server. The opposite holds true as well.
"A classic case of double-dipping in my opinion," he writes.
And Oracle seems keen to add revenue in other areas, too:-
"For at least 10 years Oracle Reports has been available for under $1000. I'm not sure of the exact price. Oracle Reports is no longer available as a single product. It is now part of Oracle's application server. Application Server is available for a $20,000 per processor...
"The company I work has hundreds of complicated reports, and three large products that use Oracle software including the reports. Many of our systems run on four or more processor boxes. Needless to say, $20k is too much for a few reports that could easily be written in something else. We had virtually no warning of the change suddenly our new customers simply couldn't order Oracle Reports.
"I think what most technology companies forget is that it is the little tech guy that decides what development tools are used, and what OS is run. Microsoft won the Windows vs. OS/2 battle because there were cheap development tools. Cheap development tools mean they get into the hands of more people. I think you know where I'm going. I thought Oracle was headed in the right direction with OTN. It has been awhile sense I've seen any development tools that require a runtime license. $20+k for a report runtime is a little much.
SQL Server, anyone?"
Wheeler says he examined SQL Server but found that recent Microsoft license hikes had narrowed the SQL Server price advantage considerably .
Oracle said it had received few complaints, and denies price gouging. ®
Thanks for your letters. ®
Sponsored: Learn how to transform your data into a strategic asset for your business by using the cloud to accelerate innovation with NetApp