EMC pushes WideSky on sometimes unwilling world
Hardball with hardware vendors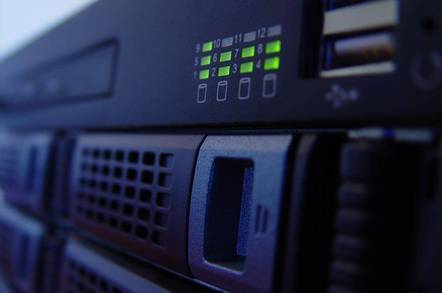 EMC today launched its WideSky storage middleware, but admitted that the software simply bundles together and puts a front-end on interfaces that have existed for some while,
Tim Stammers writes
.
On the question of the still-missing support for key hardware products in WideSky, once again the company threatened that even if its rivals continue to balk at supporting the proprietary and potential hugely influential middleware, it will engineer that support without their cooperation.
Hopkinton, Massachusetts-based EMC released a set of tools for third-party developers to access WideSky, which it describes as translator software that allows storage and applications software to trade systems information with each other and with storage hardware. EMC described its developers program as "the storage industry's largest open software initiative," and said the program has over 100 members.
But WideSky, unveiled last October, still lacks the hardware support needed to enable management software truly capable of handling heterogeneous storage systems. One reason for the emergence of those mixed systems in what has until now been a very proprietary storage market is that EMC's high-end rivals HDS and IBM Corp have recently begun to ship genuinely competitive products. Faced with this commoditization of its core hardware products, EMC is stepping up its efforts in the higher-margin software arena, in which it has already demonstrated an edge over its competitors. Hence the emergence of WideSky.
By EMC's own admission what WideSky does for software interoperability is based on collecting together existing interfaces into one package. These interfaces allow "mapping" or monitoring and transfer of systems information, but no active control of applications.
"There have been pieces of this available historically. The key here is wrapping these things together," said Don Swatik, EMC's vice president of global alliances. "We're providing the low-level APIs so that ISVs can focus on developing applications," Swatik said. Comparing WideSky to a United Nations translation service, EMC said it is easier for developers to code to one WideSky interface, and then let WideSky handle the translation to other vendors' systems, than it would be to code to each of several separate suppliers' interfaces.
But by this analogy the company highlighted what is scaring EMC's rivals.
WideSky could do to the same to their interests as an interpreter with a personal agenda could do to world relations at the UN. That could be so even if WideSky only reflected an unconscious bias towards EMC engineering approaches.
On the hardware front, EMC has already announced a deal with Compaq Computer Corp under which the two companies swapped API access to the software that runs on the controllers of their storage arrays, and WideSky is also supported by storage networking vendors such as QLogic Corp and Brocade Communications Systems Inc. But even Compaq insisted that that its API swap in no way represented support for the "proprietary and counterproductive" WideSky, and EMC has yet to manage a similar deal with IBM or HDS.
Swatik said more hardware deals will be announced later this year. "We're in discussions with all the major vendors," he said. Does that include IBM and HDS? "That's a good assumption," he said.
Not according to IBM it isn't. "There are no active discussions with EMC," a spokesman told ComputerWire yesterday. Since the EMC middleware was first announced last year, IBM has repeatedly condemned WideSky as proprietary technology that it says will benefit EMC, but not the industry. According to IBM, any such middleware efforts are best handled by standards bodies.
HDS began negotiations with EMC to trade APIs last year, but since ComputerWire reported the fractious nature of the talks, both companies have agreed not to discuss their progress. It is not know whether they are continuing. "No comment," an HDS spokeswoman said.
The WideSky tools released yesterday by EMC include an SRM (Storage Resource Management) interface, which provides end-to-end mapping and access to systems information. "Access in the sense of what's going on. You're not controlling the [array] volume systems, but they're telling you where they're putting the data," Swatick said. An example of where this might be useful would be in tuning an Oracle database. If the database is aware of how a Symmetrix has distributed data across its disks - and not just which disk it is on - it can tune itself better, Swatick said.
Underlining the fact that the interfaces in WideSky already exist, Swatick said that Oracle's shipping 9i database already uses such information supplied by the Symmetrix.
EMC also listed IBM's DB2, Microsoft's SQL Server and Sybase's ASE database as supported by WideSky. Volume managers and file systems supported by WideSky include those from Compaq, IBM, HP, Microsoft, Sun, and Veritas. Rob Soderbery, senior director of strategic and platform alliances at Veritas said: "Mapping is one component of an SRM solution. Veritas has been making it available to EMC for some time now, with our volume manager and file system APIs." Those Veritas APIs were also made available to third parties through EMC, before WideSky.
What makes EMC so sure that WideSky will be endorsed by the industry? "It's a very simple one-word answer. Customers", Swatick said. EMC is hoping that market pressure will force IBM and HDS to do what Compaq did, and cooperate with EMC.
Swatick pointed out that IBM and Sun fought back hard to defend what they had considered as their captive storage markets until EMC's arrival on their doorsteps in the eighties and nineties. "Now we have extensive cooperative support agreements with those companies," he said. And if rivals don't trade APIs, EMC said as it has before that it will resort to CLI or NDMP interfaces, with which it says it will simply take longer to access their technologies.
© ComputerWire.com. All rights reserved.
Related story
HDS plays down API swaps with IBM or EMC
Sponsored: Minds Mastering Machines - Call for papers now open