HP bows OpenBlade spec
For Blade Server interoperability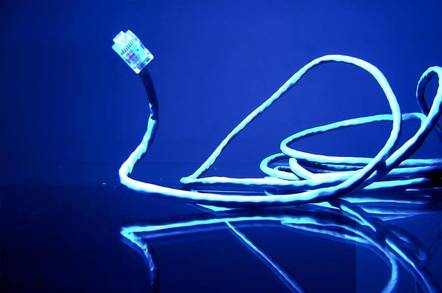 Hewlett Packard Co will today announce that it has released an open enhancement of the CompactPCI (cPCI) specification for servers commonly used at telecoms and dot-coms that the company hopes will eventually become a standard adopted by all manufacturers of blade servers,
Timothy Prickett Morgan writes
.
This is an ambitious goal, considering the amount of account and engineering control that server vendors get from the server designs.
Compaq Computer Corp and RLX Technologies, both hoping to be dominant in the blade server market like HP, have proprietary blade board designs that do not adhere to the CompactPCI standard. IBM Corp is widely expected to debut its own blade servers before the year is out, and is also expected to use its own proprietary blade and chassis design. And Sun Microsystems Inc, which supports the cPCI standard in select Netra telco servers, is planning on non-cPCI blade servers based on its UltraSparc-IIIi processors and a proprietary interconnect for blades and peripherals.
HP announced its "Powerbar" blade servers, which adhere to the cPCI standard, in early December 2001. The cPCI standard is an open specification supported by and controlled by the PCI Industrial Computer Manufacturers Group, which is a consortium of more than 700 companies that use PCI for embedded applications. CompactPCI embedded servers have been used in real-time systems for industrial control, data acquisition, and other applications like military systems as well as in infrastructure servers for telecoms, dot-coms, and other service providers. The consortium's 700+ companies are keen on extending the cPCI standard, says HP, so their devices can plug into enterprise servers like HP's Powerbars.
Anne Keffer, worldwide marketing manager for server appliances at HP, says that the OpenBlade specification will be posted on HP's web site today and that the company is hopeful that server and other peripheral suppliers will be compelled by history and self-interest to drop their proprietary designs and embrace and evolve this OpenBlade standard. HP has made no secret of this desire.
Despite the noises being made by rival Sun about how the future of blade servers at Sun is not cPCI but rather a much denser design - Sun wants to increase server density by a factor of five while cutting costs in half - HP is still optimistic that Sun, and indeed all the players in the blade server market, will get involved in the evolution of an open blade server standard and steer clear of proprietary designs.
"We are hoping that companies will meet and create a standard, especially the bigger vendors that are not adhering to CompactPCI," says Keffer. "I can't predict the future, and I don't know if they will pick it up, but we are strongly encouraging this."
The reason why HP is so gung-ho about cPCI, or rather an eventual turbo-charged cPCI, is that it believes correctly that a standard describing the size, interconnect, and manageability features of blades will provide enterprise customers with choices and force vendors to be truly competitive in what they offer. Truth be told, this openness is what all vendors secretly loathe, and probably HP, too. But the idea of blade servers almost presupposes interoperable blade components and chassis. As soon as the OpenBlade standard is public today, HP will start making the rounds with server and other cPCI component vendors to show them the wisdom of this.
While from the customer's point of view HP should be commended for its efforts to create an open standard - which it says it can afford to do because it wants to differentiate its blade offerings on the chassis design, systems manageability features, price, and performance - these things are dicey at best.
Unix never became the standard it should have because of infighting amongst the Unix vendors. And no vendor has willingly designed major server components, with the exception of peripheral interconnect cards, that would allow a competitor's similar components in their frames.
In a related announcement, HP says that it has signed up over 100 partners for its HP Blade Server Alliance Program, an initiative to get cPCI component suppliers and other interested parties to get their products certified for use on the Powerbar blade servers. Back in December, HP had signed up 20 such partners.
"This is a new technology, and customers are a little wary of running all the different operating systems and devices in a single chassis," says Keffer. "The certification gives both partners and customers confidence." Intel Corp, Oracle Corp, Novell Inc and Microsoft Corp were among the early members of the HP certification program.
© ComputerWire.com. All rights reserved
Sponsored: Minds Mastering Machines - Call for papers now open