The Sun shines out of BEA's hind
Chairman Scott on wireless, IBM's W3C nasty, and bundling iPlanet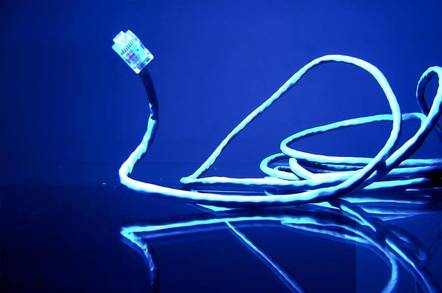 "blah blah blah giant hairball blah Microsoft Lookout blah Dell banana blah blah IBM unintegratable...
OK, we'll assume readers are familiar with the down-home patter of Sun CEO McNealy, and appreciate that it's reliably funny and well-timed, etc. etc. Or at least it is the first seventy five times you've heard it. All you need to know are what new lines are revealed by diff[1]-ing the new transcript against the old, and we can happily oblige here.
McNealy gave an audience to an audience mostly consisting of European hacks in Santa Clara yesterday, and these are the significant others.
IBM's push for royalty bearing W3C RAND licenses
"IBM pretend that they're open. But they're fighting so hard in the standards bodies to makes sure that the technologies are royalty bearing, and not open. They want to have the interfaces, so if you want to implement an interface that's 'open', even by a standards body, you have to pay a royalty to IBM."
Does the US have a better wireless infrastructure than Europe?
"No.
"Each company thought they could be a monopoly. Each thought they could win. They all made a run for it and they're all going to lose out."
Linux
"Linux is the next step beyond open interfaces. There's interfaces and then there's implementations to that interface.
"Now the problem with 'FREE' is that it's really hard to give out stock options. It's hard to pay salaries on free, and really hard to get them to wear a bleeper on a Saturday night.
"Nobody should own the interfaces - like the alphabet or the word 'Windows'. But you should be able to create proprietary implementations of open interfaces.
"But I like the fact that people are willing to donate to the public domain. We love Linux, and the most wonderful thing about Linux is that it's a problem for Microsoft."
Look out BEA
"Novell was standalone directories business selling its directory service like it was an industry. No it isn't, it's a standalone feature, it's a feature of a webtone switch.
"BEA is out there saying application servers are an industry. No, application servers are a feature of a webtone switch and they're going to find that out very shortly now. [our emphasis]
"IBM is bundling WebSphere with their platform. Microsoft is bundling their iPlanet on their platform. We've got iPlanet now free and clear to bundle on our platform. So where are they going to sell to… a Mac?
The Sircam merger
"Bull, Siemens Nixdorf and Olivetti are just integrators. I'm not being derogatory here, they're good businesses to be in. But they've all been hollowed out by the IBM monopoly and the Wintel monopoly. Our competitors are R&D companies.
"Take Dell. Dell is not a computer company - they're the world's best grocery store for computers. They might not even touch the computer, they might just be the website that takes the order, and IBM has gotten out of it altogether.
"It doesn't matter what happens with Hewlett Packard and Compaq. They're just both out of the RISC Unix business and they're both Microsoft resellers. The last thing in the world needs is another company selling Microsoft-Intel computers.
Bootnote: If the above proves anything, it's that Scott reads The Register even more closely than we do, and we're supposed to work here. (This we know from finding that 'Itanic' is now public slang for IA-64, and finding our more pernickety points - such as the difference between authentication and authorisation - recycled in Sun's notPowerPointSlides. No complaints here folks, we're just glad someone's paying attention.)
The W3C RAND snippet was throw in unprompted, and highlights one of last year's most important, but least-read stories. Judging by our stats, very few of you seem to care too much if the web becomes pay-to-play, although McNealy was quick to spot the competitive advantage. As he should - it's IBM's dirty little secret. See
here for our coverage of this story.
The wireless question was ours, but despite his free market instincts, McNealy isn't now prepared to defend the ramshackle framework which underpins the US cellphone industry (even though some of them are his best customers).
All in all, a sound performance, marred only by the hideous Ronnie Corbett jumper. ®
Sponsored: Minds Mastering Machines - Call for papers now open