IBM builds absolutely super computer
Swinging Blue Gene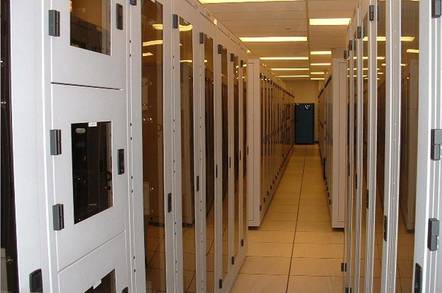 IBM is teaming up with the Lawrence Livermore National Laboratory to develop Blue Gene/L, a supercomputer which will be 15 times faster, 15 times more efficient and use 50 times less space than today's supercomputers.
Part of IBM's Blue Gene research project, the machine will operate at 200 teraflops, or 200 trillion operations per second, when it arrives in 2005.
Many existing data-intensive applications are slowed down by the time to access information from their memory chips. Blue Gene/L speeds up this process significantly - it's populated with 65,000 data-chip cells optimised for data access. Each chip includes two processors, one handling computing and one handling communication, as well as its own on-board memory.
The machine will be used by researchers to simulate physical phenomena, such as the ageing of materials, fires and explosions.
The Lawrence Livermore National Laboratory - used by the Department of Energy's (DoE) National Nuclear Security Agency (NNSA) - already hosts the world's top speedster, IBM's ASCI White RS/6000 SP supercomputer, which operates at a peak performance of 12 teraflops.
This kind of muscle comes very big: ASCI White consumes floor space equivalent to two basketball courts or about half a football field.
IBM says Blue Gene/L's predicted processing power will exceed the combined top 500 supercomputers in the world today. The Top 500 list, updated bi-annually, has just 16 computers with processing power exceeding one teraflop, half of them built by IBM.
Compaq, Intel, Hitachi and SGI all have machines in the top ten. ®
Related Stories
Compaq on speed with 1GHz 64-bit Alpha boxen
World's fastest supercomputer goes down a bomb
AMD cluster sneaks in Supercomputer top 500 list

Sponsored: Learn how to transform your data into a strategic asset for your business by using the cloud to accelerate innovation with NetApp