IBM stalls on Regatta stalls
Video Diary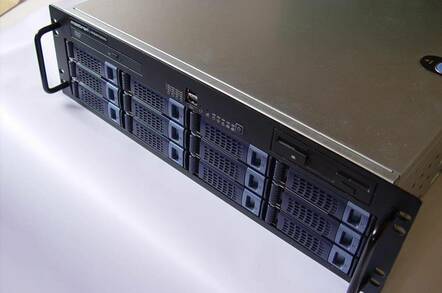 We're tolerant people at The Register. Tolerant to a fault: so when a respected industry veteran starts talking about its fault tolerant servers, we're naturally not going to get too picky if we can't actually receive the material because of ... er, faults on its servers. Are we?
IBM probably has more to boast than anyone about when it comes to keeping iron running. It's allowed its best research to work its way into shipping kit, either by accident or design. The AS/400 you could call an accident: as it began life as a beautiful research paper which survived, against the odds, as a skunkworks project before becoming the saviour of IBM's midrange. And the S/390 fellows would be upset to have their craftsmanship attributed to anything other than design, which is fine with us.
But IBM has decided to brand its fault tolerant initiatives under the banner of 'Project eLiza', which means we get pictures of Irving Wladewsky-Berger staring rather guardedly at a stuffed lizard. eLiza is an initiative intended to make all of IBM's servers more reliable, and even - and reach for your new-age smelling salts here: "self-healing". For the next range of Unix servers, Regatta, based on POWER4 chips, that means a lot of added instrumentation to diagnose faults. And some tweaks to the PCI bus, and more memory correction routines.
At the lower end, though, in the commodity PC business, there's precious little that even the classiest OEMs can do to differentiate their servers, and so every small advance tends to get accompanied with a great fanfare.
We were a tad dismayed to see the following when we tried to view the Regatta promo video:-

Runtime Error!
Program IEXPLORE.EXE
R6025
- pure virtual function call

What's all that about? Not a problem with the IBM hardware at all, it transpires, but a piece of clumsy coding which reproducibly fails to invoke Real Player to view the content. Which we guess, proves that even with the best hardware, you can still have a reason to take out your web coders and shoot them, just for fun of it. ®
Related Stories
eLiza asks: what makes you say you want a self-healing server?
Sponsored: Minds Mastering Machines - Call for papers now open